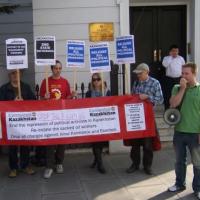 "Nazarbayev – blood on your hands!"
On Friday 23 March, a protest action took place in front of the Kazakhstan embassy in central London. This was in solidarity with the victims of the dictatorial regime of Nazarbayev, and in support of actions and demonstrations taking place on Saturday 24 March in major urban centres in Kazakhstan.
Protesters from Campaign Kazakhstan and from the Socialist Party (CWI England and Wales) gathered at the embassy to denounce the brutal crackdown against political and trade union activists, to demand the release of all political prisoners, the dropping of all charges against 43 workers arrested on fake charges and put on trial following police shootings of oil workers and their families, last December, in the city of Zhenaozen, in the oil-Western region of the country.
A letter was also delivered to the ambassador. We will make sure that our voices will continue to be heard, in London and many other parts of the world, to expose the brutalities of the Kazakh regime and to support those who courageously fight for democratic and social rights in the country.
For further reports and other material, see on the Campaign Kazakhstan website here.