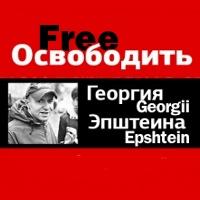 Protest this travesty of justice – Demand Georgii Epshtein's immediate release!
It took a court room judge just 5 minutes to sentence Georgii Epshtein (shown in photo 1), a member of the Russian CWI, to ten days in prison for "breaching the rules for staying in Kazakhstan".
Judge Ak-Hazik Korazbayeva and the prosecutor based their decision on so-called "eye-witness" evidence which was presented by a person who Georgii has never seen before. The 'eyewitness, identified as 'Pashaev Magamed', after shown a photocopy of Georgii's passport by the police gave evidence that Georgii was supposedly living in his flat. This "proof" was backed up by further evidence obtained fraudulently by the police.
Yesterday, they went to a flat in which Georgii is temporarily registered and asked his landlady to backdate his registration, apparently for "the records". By having overlapping registration dates, Georgii was automatically deemed to be in breach of the law. Evidence was given by Georgii's landlady confirming that he was living in the flat with his registration in order and also testimony in Georgii's favour was also heard from a journalist, Zhanna Baitelova. But this evidence was just ignored by the judge and prosecutor. The judge did not even make any pretense of reviewing the case fairly but proceeded to interrogate Georgii's, and make provocative comments about the accused to the court room, such as "Why is he smiling", "Why is he talking?" and "Why is he standing?" The judge and prosecutor were in full agreement in sentencing Georgii to "ten days in prison". This, despite the fact, that the police were not able to present the proper record of Georgii's detention.
Judge & Prosecutor in the court room
Please send urgent protests to:
Aidis Dunshebaev – the Police inspector responsible for arresting Georgii – mobile number +7 705 555 79 39
Berik Dusenbaevich – Head of the Migration police in the Bostandyskii region +7 727 394 10 14
The Kazakhstan embassy in your country. A list can be found in a previous article here