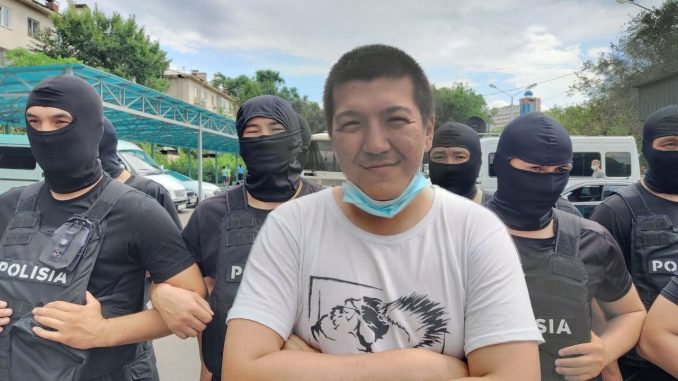 The Committee for a Workers' International has received from a group of left activists in Kazakhstan known as 'Red Yurt' the following account of a vicious attack on a demonstration in Almaty and an appeal for solidarity.
The Kazakhstan state is continuing to suppress all democratic rights, including the right to peacefully protest, as well as making life harder for workers and young people by increasing prices on basic essentials.
Please send messages of protest to your Kazakhstan embassy and other business and cultural organisations linked with the Kazakhstan government and messages of solidarity. (See below )
Activists 'dissappeared' by regime
The ruling party in Kazakhstan continues to unleash its repressive machine against the left.  On July 6, left activist Valikhan Sultanov was arrested at a protest demonstration against price increases. In fact, at the rally many issues were raised, but Valikhan had come with this particular demand to the authorities, as a result of which he was arrested.
The security forces used in their "work" a favourite and proven vigilante method. They encircled the protesters and did not let anyone go in or out of the circle. For some time the protesters were not even given water and it was well over 30 degrees in the blazing sun. The rally lasted from twelve o'clock in the afternoon until ten o'clock in the evening.
The protesters were not allowed to leave the Security Forces' encirclement the entire time. Only journalists were given any water and that at a great price. They immediately paid with, under different pretexts, being chased away from the rally. Only with incredible efforts was it possible for the protesters to be able to pass on the bottles of water to each other and with even more difficulty, to 'follow the course of nature' as we say.
During one of the attempts to break through the cordon, an SOBR 'Security' unit started beating protesters and throwing them into buses. Valikhan Sultanov, Yrysbek Toktasyn and Dostiyarov Dauren sustained serious physical injuries, according to the protesters. All three were given ten days in jail. We were not even able to take anyone for medical attention. According to some of the activists, those detained were the ones who suffered the most from the SOBR violence. The detainees were taken to the ROVD police and kept for a long time and not allowed medical attention for their injuries. There was an online trial and they were sentenced to ten days in jail.
At present, further information is not known because the Nazarbayev-Tokayev dictatorship prevents any attempts to find out anything about victims of the security services. According to unconfirmed information, Valikhan Sultanov is now in one of the medical institutions of Almaty in a serious condition with severe head wounds.
Our all-Kazakhstan organisation – "Red Yurt" – asks all left-wing activists and organisations to spread this message as widely as possible and protest to Kazakhstan authorities through embassies and to business and cultural organisations linked with the regime.
Our strength is in solidarity. The totalitarian regime of Nur Otan has started "tightening the screws" as hard as it can.
Thank you
Please send solidarity messages to Red Yurt at chakmonro@ya.ru
Letter of protest  from Campaign Kazakhstan