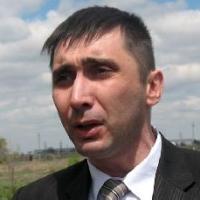 Prison rights campaigner faces 7-15 years in jail
The case of Vadim Kuramshin has been rushed to court, notwithstanding the protests of his lawyers. The Prosecutor has ignored the complaints made on Vadim's behalf about numerous breaches of legal procedure. The preliminary hearing will now be held beginning on 17th April in the special regional criminal court for the Zhambulskaya oblast, Kazakhstan.
Vadim is being charged with extortion. He was arrested on 24th January, just before he was about to hold a press conference at which details were to be given of the corruption of members of the Prosecutors office. Instead he was arrested after the Deputy Prosecutor alleged that Vadim had attempted to extort a large bribe from him. Since his arrest, Vadim has been kept in the Remand Prison in the city of Taraz, near the border with Kyrghizstan. (See campaignkazakhstan.org/index.php/page/4/ for fuller explanation).
If found guilty, Vadim faces between seven and fifteen years in prison. As a result of trumped up charges in revenge for his uncovering of corruption in northern Kazakhstan, Vadim has already spent over ten years of his life in the country's brutal prisons, during which he was subjected to unthinkable torture.
Vadim, his lawyers and supporters are convinced that the charge of extortion is no more than a provocation by the country's political police – the KNB – as a means of physically removing him from the struggle for justice They want to 'neutralize' Vadim, one of the country's most effective human rights campaigners, by using this absurd accusation to put him away for more long years.
Please send messages of support to Vadim and his supporters to baitelova@gmail.com with copies to Kazakhstansolidarity@gmail.com
Special financial appeal to all readers of socialistworld.net

Support building alternative socialist media

---

Socialistworld.net provides a unique analysis and perspective of world events. Socialistworld.net also plays a crucial role in building the struggle for socialism across all continents. Capitalism has failed! Assist us to build the fight-back and prepare for the stormy period of class struggles ahead. Please make a donation to help us reach more readers and to widen our socialist campaigning work across the world.

Donate via Paypal

CWI- Please inform us if you are reproducing any material from this site.