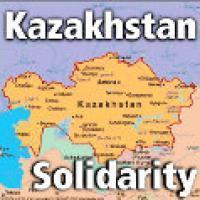 Strikers punished for state's murderous attack on peaceful gathering of oil workers and families!
Zhanaozen city was reportedly surrounded by Internal Ministry troops in advance of the sentencing of the thirty seven oil workers and their supporters on Monday. Jail sentences were given against oil workers and their supporters, in relation to events in the town on 16 December last year. Campaign Kazakhstan commented: "it was the forces of the state who murderously attacked a peaceful gathering of striking oil workers and their supporters, killing as yet unknown numbers."
Supporters of those on trial are planning further protests in Zhanaozen and Aktau.
To read the full report and find links to more background articles, click here:
http://campaignkazakhstan.org/index.php/2012/06/05/all-but-four-zhanaozen-defendants-found-guilty/
The CWI relies on the donations from working class people around the world to fund our campaigns.Please donate towards building the CWI.