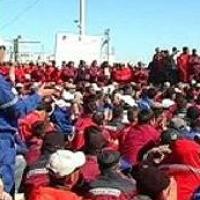 But strikers' lawyer Natalia Sokolova remains under arrest
Twenty seven oil and gas strikers, who were held in police custody following the violent breaking up of their demonstration last Sunday, were yesterday released following negotiations between the strikers and the city's procurer. This retreat was made because over 2,000 strikers, their relatives and children gathered outside the bus station in protest at the continued detentions. The Procurer fearful that the protest would move on the centre of the city was forced to begin negotiations.
Around 15,000 oil and gas workers have been on strike for over two weeks in the Mangistauskaya region of west Kazakhstan. The strikers demand a wage increase and the nationalisation of the oil and gas company, as well the right of all workers to organise independent trade unions.
A delegation of strikers, led by Socialist Movement Kazakhstan member, Mukhtar Umbetov, and the Procurer, visited two more trade union activists who are still in hospital following their protest. They said they were in a good spirits and prepared to keep the struggle on to the end, although they will have to stay in hospital for a further two weeks.
New demands
Today, negotiations with the company's management are due to start, although now the strikers have additional demands. They are making clear that negotiations will only start when all those sacked workers are reinstated, their lawyer, Natalia Sokolova, is released and all charges against her dropped.
Natalia Sokolova was arrested and detained by police, last week, and charged with "stirring up class conflict". Under the authoritarian state's criminal laws, this offence can lead to a 4-7 year imprisonment.
During their discussions with the Procuror, the strikers demanded a meeting with Sokolova to ensure that she is being kept in reasonable conditions, but, so far, without success. Trade union activists are making it clear there can be no meaningful negotiations until these first conditions are met by management.
The mass strike, including hunger strike and other protests will continue.
Urgent protests can be sent to Kazakhstan embassies and to the following: doverie@kmg.kz, info@mangystau.kz, ppo@s-k.kz.
Solidarity messages to: solidar@socialismkz.info with copies to Robert.cwi@gmail.com