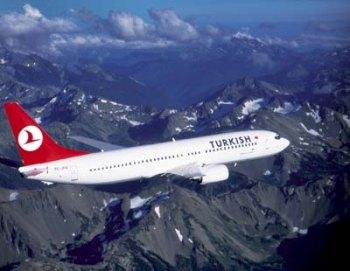 Workers fighting back request solidarity and support
Here, in the name of international solidarity, we republish an appeal from London-based Turkish-Kurdish community centre Day-Mer.
Socialistworld.net
________________
The preparations for a strike by the Civil Aviation Union (Hava-İş) following the breakdown in collective bargaining discussions at Turkish Airlines have been attacked by the [neoliberal] AKP [Justice and Development Party] government through the inclusion of aviation services in a strike ban. Aviation workers have shown their reaction to the ban with a one-day strike. Following this action 350 workers have been sacked. The sacked workers and their union Hava-İş are continuing their struggle with daily actions. We call on primarily aviation workers and all workers in Europe to show solidarity with their brothers and sisters in Turkey.
With an unprecedented pace, the AKP government have banned aviation workers' strikes by means of an additional clause to the 'Collective Bargaining, Strike and Lock-out Act'. The proposed change in the law that started to be discussed in a Grand National Assembly sub-commission on 24 May was passed on 30 May, approved by the President Abdullah Gül on 2 June, and took affect on 3 June.
The reason for the President's and the AKP government's rush, in making effective a law that is not only against a number of international agreements but also Clause 90 of the Turkish Constitution through at the weekend was the ongoing collective bargaining talks at Turkish Airlines.
Strikes had become a possibility as months of discussions and the statutory obligatory stage of arbitration between the sides have not yielded a result. Hava-İş would have been able to call a strike at Turkish Airlines within six days of the publication of the arbitration commissions report. The government and Turkish Airlines first tried the judiciary to halt this. They first went to court to prevent a likely strike. The court accepted the case and set a hearing date for September. Hence, any chance of a strike before then was prevented by law. Therefore Turkish Airlines has achieved to postpone a strike to the autumn, rather than the busy summer months. But this has not stopped the Turkish Airlines workers struggle for their rights. Following this, the government – displaying a historic example of recklessness – has taken the step to prevent the aviation sector from going on strike.
Workers are fighting the ban
Members of Hava-İş, the only authorised union in aviation, have been fighting against the change in law proposed by AKP to ban the strikes. Having already protested against the inclusion of the proposed law change on the political agenda, thousands of Hava-İş members took part in a token strike once the proposed change has been put on the diary in the Parliament. Hundreds of Turkish Airlines workers have been sacked to intimidate and divide the struggle of the workers. The workers refuse to be intimidated by these attacks and continue their struggle.
The AKP government has once again shown through these steps that it is the government of capital; they responded to workers' demands for humane wages and working conditions with fascistic measures. This injustice the aviation industry workers have been subjected to is seen as a threat to workers and labourers in other sectors. If we fail in gathering a strong response, both from national and international spheres, to these attacks by the AKP government, other sectors will suffer similar attacks in the future.
A call for solidarity
Those workers refusing to pay the bill for the economic crisis and fighting to protect their rights are put in the firing line all over Europe; laws protecting workers' rights are changed, strikes are cancelled and collective bargaining agreements are made void in Italy, Spain, Portugal and Greece!
This attack by the AKP government on Turkish Airlines workers is part of the neo-liberal policies all over Europe against workers on behalf of capital. For this reason we call on workers and labourers to show all kinds of support for the members of Hava-İş whose slogan is "Strike is a right! No to strike bans!"
*According to statistics released by the Ministry of Labour and Social Security, there are a total of 33,000 workers in the civil aviation sector in Turkey, 13,000 of which work for Turkish Airlines. 18,000 of these workers are members of Hava-İş. The agreement signed at Turkish Airlines applies to the whole aviation sector.
________________
To send letters of protest:
Mr. Recep Tayyip Erdogan, Prime Minister Republic of Turkey (receptayyip.erdogan@basbakanlik.gov.tr; ozelkalem@basbakanlik.gov.tr; bilgi@basbakanlik.gov.tr)
Mr. Faruk Çelik, Minister of Labour and Social Affairs (fcelik@csgb.gov.tr; csgb@csgb.gov.tr; iletisim@csgb.gov.tr)
Mr. Binali Yildirim, Minister of Transport, Maritime Affairs and Communications (bilgi@binaliyildirim.com.tr)
Mr. Hamdi Topcu, Turkish Airlines, Chairman of the Board (hamdi.topcu@thy.com; yonetimkurulu@thy.com)
Mr. Temel Kotil, Turkish Airlines (tkotil@thy.com)
To send letters of support:
Civil Aviation Union: havais@havais.org.tr
Mr. Kemal Ulker, Civil Aviation Union: kemalulker@havais.org.tr
Special financial appeal to all readers of socialistworld.net

Support building alternative socialist media

---

Socialistworld.net provides a unique analysis and perspective of world events. Socialistworld.net also plays a crucial role in building the struggle for socialism across all continents. Capitalism has failed! Assist us to build the fight-back and prepare for the stormy period of class struggles ahead. Please make a donation to help us reach more readers and to widen our socialist campaigning work across the world.

Donate via Paypal

CWI- Please inform us if you are reproducing any material from this site.