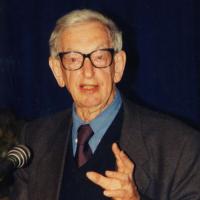 Aged 95, Hobsbawm still participated in the debate about the alternative to capitalism
The internationally well-known historian Eric Hobsbawm passed away on 1 October. His reputation as a historian who based himself on Marxist ideas rests on books like, 'The Age of Extremes' (part of his four-volume 'Age of…' series, in which Hobsbawn discussed the history of capitalism from 1789 to 1991). A long-standing member of the British Communist Party, Hobsbawm appeared to recant his former support for Stalinism but he did not fully break with its baleful ideological heritage.
Peter Taaffe, General Secretary of the Socialist Party (CWI England & Wales), reviewed Hobsbawm's last published book, 'How To Change The World'. Does Eric Hobsbawm provide a revolutionary perspective for the new layers of radicalised youth and workers resisting austerity and looking for an alternative to capitalism? To read the full review, see www.socialistworld.net/doc/4979
Special financial appeal to all readers of socialistworld.net

Support building alternative socialist media

---

Socialistworld.net provides a unique analysis and perspective of world events. Socialistworld.net also plays a crucial role in building the struggle for socialism across all continents. Capitalism has failed! Assist us to build the fight-back and prepare for the stormy period of class struggles ahead. Please make a donation to help us reach more readers and to widen our socialist campaigning work across the world.

Donate via Paypal

CWI- Please inform us if you are reproducing any material from this site.