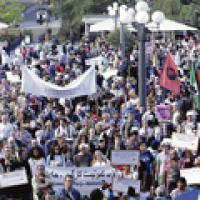 "No to war!", "No to Big Brother Obama!"
Over 5,000 people took part in demonstrations against US president Obama's visit to Sweden. Sweden's right-wing, US-friendly government acted as stand-in hosts when Obama cancelled a visit to Putin.
"Obama symbolises an imperialist war policy. Democratic rights and freedom means nothing for Obama and US imperialism. Big Brother society, capitalism and imperialism go hand in hand," said Rättvisepartiet Socialisterna's Lina Rigney Thörnblom, when she spoke at the large demonstration in Stockholm on Wednesday 4 September.
Over 4,000 marched in Stockholm in the demonstration organised by the ad hoc network '4 September', of which Rättvisepartiet Socialisterna (CWI Sweden) was one of the initiators. Around 1,000 took part in another protest in Gothenburg and there were protests in many other cities. The war drums over Syria, of course, convinced more people to take part in the protests.
During the visit, Stockholm was a city under siege. Thousands of police officers, security officers and soldiers were on the streets, while police snipers were crowded on rooftop. Helicopters and fighter jets patrolled the skies.
The cost of this huge level security was estimated to be 150-160 million SEK (19 million euro) for a 24 hour visit.
Establishment fawning
Obama's visit was greeted by the Swedish political establishment and mass media with all-time fawning. This confirmed that the Swedish government, as well as the social democratic 'opposition' are acting as White House servants, who are always prepared to rally behind the US and NATO war efforts.
"Monitoring and war is not unique to the United States. We have seen Chelsea Manning and Edward Snowden make great sacrifices to contribute to real change. Now it's our turn", said Lina Rigney Thörnblom in her speech.
Other rally speakers included Dror Feiler, an organiser of 'Ship to Gaza', who reminded the protesters that it is almost exactly 40 years since the United States organised a military coup in Chile. Other speakers included author and commentator Göran Greider, Hans Linde from the Left Party and well-known left-wing singer Mikael Wiehe. Hanna Al- Khamri , a journalist from Yemen, also spoke.
During the Stockholm demonstration, Rättvisepartiet Socialisterna supporters sold 160 copies of their weekly paper, 'Offensiv', and new people expressed an interest in the party.