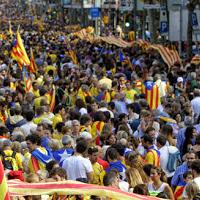 Tras el éxito de la Vía Catalana del pasado 11 de septiembre…
Tras el éxito de la Vía Catalana del pasado 11 de septiembre, han sido varias las ocasiones en las cuáles la Comisión Europea ha recordado lo que implicaría para Catalunya la separación del resto del estado español en relación a su permanencia dentro de la Unión Europea. 
No hay duda alguna de que detrás de estos claros posicionamientos hay presiones por parte del gobierno de Rajoy que, evidentemente, va a utilizar toda la maquinaria del estado para poner frenos a la posibilidad de que los catalanes puedan decidir sobre su futuro. Pero el posicionamiento de la comisión no se basa solamente en esas presiones. 
La gran burguesía internacional, el capitalismo mundial, no está por la creación de nuevas soberanías que puedan suponer un obstáculo a su enorme poder y poner nerviosos a los mercados, o sea, a la estabilidad que tanto interesa a sus beneficios. En cierta forma, la demanda de soberanía por parte de Catalunya, nada a contracorriente dentro de la dirección que impone el capitalismo en su fase actual de desarrollo, ya que el proceso que éste impulsa es hacia la desaparición de la más mínima expresión de cualquier tipo de soberanía y no hacia la creación de nuevas. 
En este sentido la UE actúa como lo que es, como una superestructura al servicio del capitalismo mundial y de los intereses de las grandes multinacionales. 
Por ello, aunque hasta ahora había intentado evitar el tema, cada vez va a ser más clara su posición según se radicalice la situación. No es casual que estas declaraciones hayan venido después de la demostración de fuerza de la Vía Catalana y muestran que, a pesar de que se remiten al aspecto jurídico de los tratados vigentes, sus declaraciones son más políticas que jurídicas. 
Pero si llamativas han sido las declaraciones por parte de la UE, más llamativas han sido las reacciones de los partidos que se consideran los pilotos del proceso. 
Tanto CIU como ERC se han apresurado a no dar crédito a la posición de la UE, negando la mayor, y haciendo llamamientos al espíritu democrático de la UE (¿alguien tiene una prueba de tal espíritu?), a la importancia que tendría para el estado español que Catalunya siguiera en la UE, a la imposibilidad de que Europa pueda prescindir de Catalunya, etc. 
Estos posicionamientos tanto de CIU como de ERC evidencian las contradicciones de su apuesta independentista, ya que demuestran que no tienen respuesta para tal situación (una hipotética salida de Catalunya de la UE). 
En ningún caso, de ninguna manera y bajo ningún concepto, la derecha neoliberal de CDC permitiría una salida de la UE bajo las actuales condiciones. Eso sería el suicidio económico de la clase a la cual representan. UDC lo tiene tan claro como CDC, la diferencia es que se atreve a verbalizarlo, mientras que Artur Mas no puede hacerlo de forma que no quede en evidencia su juego.
Por otro lado, la posición de ERC es diferente. Su independentismo es claramente más genuino, pero llega hasta tal punto que no le permite ser consecuente frente a las contradicciones a las que se enfrenta. Su discurso está basado en que una Catalunya independiente capitalista dispondría de muchos más recursos al desaparecer el déficit fiscal que es, según ellos, el origen de todos los males. Con la recuperación de ese expolio sería posible tener mejores herramientas para hacer frente a la crisis, señalando que sería posible la implantación de medidas que harían posible la creación de una sociedad mejor, más justa, más solidaria,… En ningún momento encontramos en el discurso de ERC medida alguna que quiera romper con el capitalismo, sino simplemente dotarlo de un aire más "humano", menos salvaje. De hecho, ERC nunca se ha declarado en contra de la austeridad, en todo caso, en contra de tanta austeridad (como demuestra en su papel de apoyo al gobierno de CIU). En cierta forma, no deja de ser una posición socialdemócrata que ya ha quedado en evidencia delante de las políticas que impone la troika. Dentro de la actual UE no hay lugar para políticas "keynesianas", sino para la austeridad más férrea. 
Es aquí donde asoman las contradicciones de la independencia propuesta por ERC: 
Por un lado, desde el punto de vista del capitalismo es mucho mejor mantenerse en la UE que quedar fuera. Por ello, no tienen respuestas ante la posibilidad de quedarse fuera de la UE, no pueden imaginarse un futuro fuera de ella. Llegados a tener que tomar una decisión final (o Catalunya independiente o UE) ni siquiera ienen claro que responderían. Es una decisión que no pueden tomar. 
Por otro lado, incluso en el caso de la permanencia de una Catalunya capitalista independiente dentro de la UE, las políticas que proponen son irrealizables. No existe lugar para unas políticas keynesianas (que de todas formas no resolverían la crisis estructural del capitalismo) en el marco de la actual UE. A pesar de la eliminación del déficit fiscal la férrea austeridad iba a continuar. Si alguien tiene dudas de esto que le pregunte a Zapatero o a Hollande. 
La independencia, o cualquier ejercicio verdadero de autodeterminación en Catalunya, tiene muy pocas posibilidades de éxito en un marco capitalista. Aunque el protagonista principal del actual proceso sea el pueblo, actualmente los brazos políticos que lo guían están en manos de la burguesía y ésta no está dispuesta a llegar al final hasta las últimas consecuencias. Desgraciadamente, la burguesía catalana ya lo ha demostrado en más de una ocasión en el último siglo. Al mismo tiempo, como comentábamos anteriormente, el capitalismo mundial no está por la labor de dar pie a la creación de nuevas soberanías que entorpezcan su misión. Esto dificulta terriblemente la posibilidad de una independencia de Catalunya en el contexto actual. por supuesto, nunca es descartable del todo. El capitalismo siempre está dispuesto a hacer concesiones llegado el caso de que la presión sea tan grande que amenace su estabilidad, pero eso es muy poco probable mientras las demandas sean articuladas políticamente por partidos de carácter burgués. 
La existencia de naciones sin estado dentro de la Europa actual es el producto de una tarea capitalista no resuelta a su debido momento. Es un problema que creó el capitalismo durante la época de sus revoluciones burguesas. Lo creó para facilitar precisamente esas revoluciones, pero en los sitios donde no se llegaron a completar, quedó esa tarea sin resolver (como en el estado español). Ya es tarde para que el capitalismo pueda dar solución a esa anomalía histórica y a día de hoy sólo es posible resolverla mediante la vía revolucionaria. 
La clase trabajadora es la única que actualmente puede poner solución a esa anomalía histórica y solamente lo puede hacer como parte de un proceso revolucionario que rompa con los límites del capitalismo. Cualquier lucha para conseguir una verdadera autodeterminación tiene que enfrentarse necesariamente al liderazgo capitalista del actual proceso y al capitalismo en su conjunto, luchando por una alternativa socialista, de democracia obrera. 
Este cambio, por naturaleza, tiene que ser abordado desde un punto de vista profundamente internacionalista. La lucha social y obrera aclara las contradicciones sociales hasta mostrar la inutilidad de las tensiones e animosidades entre pueblos nacionales que al fin y al cabo son una consecuencia de la escasez y competencia que caracterizan al capitalismo. Llegados al punto de una Catalunya independiente, no solamente del estado español, sino también del capitalismo, la tendencia principal no sería hacia la separación y fragmentación sino hacia la confederación voluntaria y la libre cooperación entre los pueblos sobre la base de una soberanía compartida de los recursos y de la riqueza. 
Es esta alternativa, la de una confederación socialista, libre y voluntaria de los pueblos de la Península Ibérica y de toda Europa, frente a la UE del capital, la que Socialismo Revolucionario defiende. 
La lucha unida contra las políticas de la troika, a nivel local, nacional, estatal y europeo, ha de plantar las semillas de una solución de este tipo, la única capaz de ser duradera.
Son los partidos obreros los que tienen que jugar un rol importantísimo en ese proceso y arrebatarles el protagonismo a los burgueses. Tanto la CUP como EUiA deberían tener esto en cuenta y aprovechar todas las ocasiones que tengan para señalar y poner encima de la mesa las contradicciones que tienen tanto CIU como ERC. 
Special financial appeal to all readers of socialistworld.net

Support building alternative socialist media

---

Socialistworld.net provides a unique analysis and perspective of world events. Socialistworld.net also plays a crucial role in building the struggle for socialism across all continents. Capitalism has failed! Assist us to build the fight-back and prepare for the stormy period of class struggles ahead. Please make a donation to help us reach more readers and to widen our socialist campaigning work across the world.

Donate via Paypal

CWI- Please inform us if you are reproducing any material from this site.