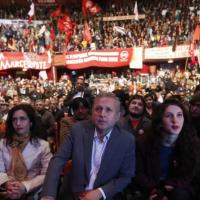 El Movimiento Todos a La Moneda debe ser el primer paso para construir una fuerza política de masas
La bronca, el malestar de la mayoría de los chilenos, que se viene acumulando hace décadas, sin lugar a duda desde el fin de la dictadura y el comienzo de la supuesta democracia, pero las primeras manifestaciones importantes las vimos en el año 2006, con la lucha de los estudiantes secundarios, que venían precedidas de luchas de los trabajadores  en el año anterior, que no siendo tan masivas si fueron muy importantes, como lo fueron las huelgas de los trabajadores subcontratistas de los trabajadores del cobre y de las forestales y por supuesto la lucha de los "pingüinos" (secundarios).
Pero sin lugar a duda el remezón más fuerte fueron las multitudinarias luchas estudiantiles que explotaron por todo el país el año 2011, exigiendo educación gratuita, para poner fin al lucro en la educación y para terminar con la usura de los bancos en contra de los estudiantes y sus familias.
Las luchas estudiantiles tuvieron un apoyo generalizado de la población, que también vio el momento de protestar en contra de la usura de los bancos, el robo descarado de la AFP, las Isapres y el retail.  También para protestar por la depredación del cobre y demás recursos naturales, contra la sobreexplotación, el subcontrato y contra los 40 años de abuso patronal.
La mayor parte de la población ha visto como día a día se ha ido empobreciendo, como es estrujado por el lucro  y el abuso de los empresarios  en todos los niveles de la sociedad, la educación, la salud, los medicamentos y los fondos de pensiones (AFP).
Todo lo anterior es lo que ha llevado a la sociedad chilena a una enorme desigualdad en todos los planos, económico, social y político. Los bajos sueldos tiene a los trabajadores y sus familias sumidos en un alto endeudamiento el que se han visto obligados a asumir para simplemente poder sobrevivir, todo esto es lo que nos llevo a una desigualdad extrema y a una sociedad enormemente frustrada y molesta.
Todos estos elementos son los que detonaron las impresionantes luchas de los estudiantes por una educación pública, gratuita y de calidad.
Pero en este periodo también hemos visto con un perfil más bajo y no tan generalizado como con el movimiento estudiantil, luchas sectoriales de los trabajadores del retail, de los Call Center, Falabella, Ripley, Sodimac, los trabajadores recolectores de la basura, los trabajadores de correos y quizás la más relevante la huelga de los trabajadores portuarios que traspaso todos los limites de las luchas de los trabajadores, dado que la mayoría de los trabajadores salieron a la huelga en solidaridad con el resto de sus hermanos de clase.
Todo esto está reflejando el aumento de la indignación entre los trabajadores y que la paciencia este llegando a su fin, no solo entre los estudiantes sino a nivel general en la sociedad, trabajadores, jóvenes, pobladores, mapuches y de las masas en general.
Una crisis general de la sociedad.
La crisis política de la sociedad, donde mejor se ve reflejada es en la crisis de las instituciones políticas, que siguen cayendo permanentemente, el Congreso, el gobierno, los partidos, el Poder Judicial, vienen claramente a la baja, entre ellas los partidos son las instituciones que menos confianza registran por parte de los ciudadanos. Por otro lado sólo un 32% cree que la economía de mercado es indispensable para el país y apenas un 10% piensa que la distribución del ingreso es justa y apenas un 17% de la población tiene interés en la política y sus instituciones.
Elecciones presidenciales 2013 y el surgimiento de Marcel Claude.
En este contexto se están desarrollando las elecciones presidenciales del año 2013 y donde surge la candidatura de Marcel Claude y el Movimiento Todos a La Moneda, que de una u otra manera viene a representar esa bronca que existe en la sociedad chilena y la casi nula credibilidad que existe en las instituciones democráticas  y el programa del Movimiento Todos a La Moneda refleja ese malestar.  La principal demanda es por una Asamblea Constituyente, que ponga fin a las instituciones políticas de la dictadura, partiendo por la Constitución del 80 de Pinochet, Educación pública gratuita y de calidad, Salud gratuita para todos, Fin a las AFP, para terminar de una vez con el robo descarado de los administradores de los Fondos de Pensiones que son de los trabajadores, pero que solo enriquecen a los empresarios,  recuperación de nuestros recursos naturales, partiendo por la renacionalización del cobre, un Nuevo Código Laboral que ponga fin al del dictador, entre sus principales demandas.
 Sin lugar a duda un programa bastante avanzado, con un candidato que no está comprometido con el duopolio derechista que ha gobernado el país los últimos 24 años, justo además cuando el Partido Comunista se paso a la Concertación, hoy convertida en Nueva Mayoría, dejando sin alternativa política de cambios a miles de trabajadores y estudiantes, que hoy lo están exigiendo en las calles y en la huelgas.
La campaña de Marcel Claude debe ser la única que hoy está siendo respaldada por un sector de trabajadores sindicalizados, apoyada por algunos sindicatos, esto es especialmente importante si queremos hablar de una sociedad controlada democráticamente por los trabajadores.
La necesaria lucha por el socialismo.
La mayoría de los colectivos políticos que hoy están en el Movimiento Todos a La Moneda y el propio candidato presidencial, Marcel Claude,  se declaran anticapitalistas lo cual es un paso adelante, pero ahora necesitamos decir porque sistema vamos a reemplazarlo . Todo el programa en si es bastante "progresista", pero para implementar una Nueva Constitución y renacionalizar el cobre y hacer cumplir los demás puntos del Programa, inevitablemente necesitamos entender que chocaremos con los intereses políticos y económicos de los capitalistas  y con los límites impuestos por el propio sistema y sus defensores.
Está claro que la implementación de las medidas que necesitamos pasa por cambiar las actuales estructuras, difícilmente se pueden implementar bajo un Estado oligárquico, antidemocrático controlado por un puñado de empresarios, para ello necesitamos un Estado democrático realmente participativo, controlado por los trabajadores y la mayoría de la sociedad, en otras palabras necesitamos construir una sociedad socialista democrática, que implemente la nacionalización de la banca, la renacionalización del cobre y otros sectores estratégicos para el desarrollo de la sociedad chilena, bajo el control democrático de los trabajadores.
Por último también debemos asegurarnos que el Movimiento Todos a La Moneda sea el primer paso para construir una fuerza política de masas, que es necesario darle continuidad después del 17 de noviembre, que es fundamental seguir construyendo en cada lugar de trabajo, en los centros de estudiantes (liceos y universidades) y en cada población obrera, dotándolo de un programa socialista para las luchas que se avecinan en el próximo periodo.
Special financial appeal to all readers of socialistworld.net

Support building alternative socialist media

---

Socialistworld.net provides a unique analysis and perspective of world events. Socialistworld.net also plays a crucial role in building the struggle for socialism across all continents. Capitalism has failed! Assist us to build the fight-back and prepare for the stormy period of class struggles ahead. Please make a donation to help us reach more readers and to widen our socialist campaigning work across the world.

Donate via Paypal

CWI- Please inform us if you are reproducing any material from this site.