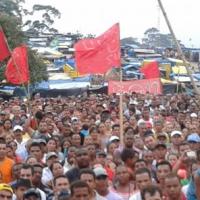 Videos of CWI comrades Tony Saunois and Bilbo Goransson addressing mass rally
A massive land occupation, organized by the MTST (Movement of Landless Workers) movement is continuing on the outskirts of Sao Paolo, Brazil. This is one of over 100 occupations which have taken place in Sao Paolo in recent months, and indicates the coming wave of struggle which will develop around the World Cup.
The 'Novo Palestina' occupation is extremely well organised, with democratic committees elected by the occupation's various groups which coordinate the occupation. 9,000 families and over 30,000 people are involved in the occupation effort. Commissions are elected to organise the camp covering, building, sanitation, defence and security. The owners of the occupied land are now calling on the Sao Paolo municipality to resolve the issue, amending the law.
Below we publish videos of three CWI comrades – Tony Saunois from the CWI International Secretariat with Andre Ferrari from LSR (CWI in Brazil), and Bilbo Goransson from Rattvisepartiet Socialisterna (CWI in Sweden) – addressing a mass rally at the occupation.