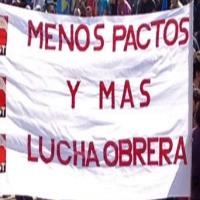 Los últimos meses hemos asistido a una mayor radicalización de las luchas…
Hoja Informativa de Socialismo Revolucionario en Madrid, del 5 de enero de 2014. También pueden descargar al hoja en este vínculo.
Ajustes
El pasado diciembre el gobierno del PP consumaba una nueva ofensiva contra los trabajadores/as y lo hacía a través de dos enmiendas aprovechando la tramitación de los Presupuestos Generales del Estado a su paso por el Senado.
La primera de las enmiendas pretende excluir de la sanidad pública a los desempleados que pasen más de 90 días al año fuera del Estado Español. Esta propuesta es continuación del decreto publicado en 2012 que suprimió el derecho universal a la asistencia en la sanidad pública para los inmigrantes sin papeles,lo que supuso la supresión de 873.000 tarjetas sanitarias y varios casos de fallecimiento por falta de asistencia.
La segunda de las enmiendas supone la modificación unilateral, sin negociación previa con los agentes sociales, del Estatuto de los Trabajadores eliminando su artículo 33-8 que garantizaba el pago directo por el Fondo de Garantía Salarial (FOGASA) de parte (40%) de la indemnización en los despidos por causas objetivas en las empresas de menos de 25 trabajadores.
Los efectos del anuncio de esta nueva medida no se han hecho esperar. Así en la Comunitat Valenciana,una de las que más expedientes acumuló en el FOGASA en 2012, se disparó en el mes de diciembre el número de "despidos express" con la esperanza de ahorrarse el 40% del coste de los despidos si se tramitaban antes del 31 de diciembre.
UGT ha calificado la medida de "nueva reforma laboral" y denunciado que "cerca de 181.000 expedientes que ahora se encuentran paralizados podrían verse afectados lo que perjudicará una vez más los intereses de los/as trabajadores/as que ya venían sufriendo demoras de varios años en el cobro de los pagos".
Como vemos, el PP sigue adelante con su intento de hacer retroceder el estado del bienestar y con él todas las conquistas conseguidas con años de lucha por los/as trabajadores/as.
…mentiras
Coincidiendo con la entrega del informe de la OCDE sobre la reforma laboral de 2012 el pasado diciembre, la ministra de Empleo afirmaba que "Las reformas van en la buena dirección. Hemos abandonado la recesión, iniciamos la recuperación y ahora queremos fortalecer el crecimiento económico y, por supuesto, lo más importante, la creación de empleo estable en nuestro país cuanto antes (…) la reforma ha servido para que se haya mantenido mucho empleo y dará las mayores alegrías a los españoles".
Sin embargo las cifras parecen contradecir el triunfalismo de la ministra y la alegría de la que habla parece reservada a las empresas que integran el Ibex35 que de enero a septiembre de 2013 obtuvieron unos benefcios de 20.561 millones de euros, casi un 13% más que en 2012.
2013 se cierra con un incremento de las demandas por despido (un 5,4% más que en 2012) y de los Expedientes de Regulación de Empleo (un 3,1%) según el informe del Consejo General del Poder Judicial.
Asimismo en 2013 se contabilizaron 1.141 huelgas (casi un 2% más que en 2012) que en
algunos casos como los de sanidad, sector educativo (sobre todo en Baleares), Panrico, Fagor, de la limpieza y lavandería central en Madrid mostraron su potencial y cual es la respuesta cuando a los/as trabajadores/as se les da la oportunidad de expresar su ira contra los recortes y la austeridad.
Los últimos meses hemos asistido a una mayor radicalización de las luchas. Los/as trabajadores/as mediante asambleas han impuesto en numerosos casos una estrategia de huelga indefinida. Desgraciadamente esa comprensión de la huelga indefinida como la herramienta más importante de lucha parece no ser percibida por la cúpula de los sindicatos mayoritarios que la mayoría de las veces van en sentido opuesto.
Las previsiones para este año son de más conflictividad laboral cuando ya están en marcha nuevos ERES ( Renfe, Adif, Metro de Madrid, PSA Peugeot-Citroen Vigo y, Coca Cola) y anuncios de cierre y despidos (Alstom, Unipost, HP) que afectarán a miles de trabajadores/as.
La conflictividad en el sector público también parece asegurada sobre todo porque, como advierten responsables de CCOO y UGT la nueva reforma de la administración local puede dejar a 200.000 personas sin trabajo.
La escalada de movilizaciones que se avecina en este año puede ser la oportunidad para que el movimiento obrero, los movimientos sociales y la izquierda recuperen las tradiciones del sindicalismo combativo y acaben con la resignación generalizada impuesta en el movimiento por sus dirigentes.
Organizarse desde las bases, un calendario de movilizaciones y la coordinación y unificación de las luchas que confluya en una huelga general política y no meramente de protesta es el camino a seguir.
… y cifras trucadas
De rocambolesco y tendencioso habría que calificar el método utilizado por el Gobierno para dar a conocer los datos de paro registrado correspondientes a diciembre de 2013.
A través de una supuesta filtración a una agencia de prensa conocimos el escueto dato de que el paro había descendido en 107.570 personas. La letra pequeña la conocimos al día siguiente en la rueda de prensa del Gobierno pero ya en el subconsciente colectivo se había quedado grabada la cifra mágica y sobre todo la idea de que la crisis está repuntando.
Los análisis posteriores han quedado para los expertos y las páginas económicas y se han perdido en la vorágine de los resúmenes del año. No obstante convendría desmontar muy brevemente, con todos los datos encima de la mesa, la optimista interpretación que de los mismos ha hecho el Gobierno.
En primer lugar, y en esto coinciden todos los expertos, la bajada del paro en 107.570 personas en diciembre no se debe a que haya crecido el empleo en idéntico número, pues los cotizantes sólo se han incrementado en 64.097, sino a la salida de las personas extranjeras que vuelven a sus países al no encontrar empleo en el nuestro y también a la no renovación de la demanda de empleo en las oficinas de empleo al no tener ninguna expectativa de encontrar trabajo. No hay relanzamiento de la actividad económica sino más bien desanimo. Es decir, el paro está bajando porque se está reduciendo la población activa. Esta reducción fue de 370.400 entre octubre de 2012 y octubre de 2013.
En segundo lugar,y en esto también hay unanimidad de opiniones es que no hay más empleo sino que se ha producido una transformación del empleo indefinido en temporal y del empleo a tiempo completo en a tiempo parcial y que un elemento determinante de la bajada del paro (importante en el sector servicios ) ha sido el incremento de la contratación estacional. Por eso en verano y diciembre crece el empleo temporal que
inmediatamente se destruye.
Como señala Mari Cruz Elvira, secretaria de Empleo de CCOO de Madrid, "la bajada del paro siempre es una buena noticia, aunque el descenso del desempleo no significa que los trabajadores y trabajadoras tengan más y mejor empleo ya que las contrataciones que se realizan son de extrema precariedad: de muy corta duración, con bajos salarios y de jornada reducida a tiempo parcial, además de la pérdida de derechos que han ido eliminado las sucesivas reformas laborales". Los datos de contrataciones del mes lo demuestran. en Madrid, en diciembre se realizaron 144.570 contratos, 593 menos que el mes anterior de los que 120.043 han sido temporales frente a los 24.527 indefinidos.
La gravedad de la situación también se refleja en otros factores que tienen una gran importancia: sigue aumentado el paro de larga duración, aumenta el desempleo en las personas de mayor edad, disminuye el número de personas que cobran prestaciones y la pobreza sigue aumentando entre la población madrileña.
Special financial appeal to all readers of socialistworld.net

Support building alternative socialist media

---

Socialistworld.net provides a unique analysis and perspective of world events. Socialistworld.net also plays a crucial role in building the struggle for socialism across all continents. Capitalism has failed! Assist us to build the fight-back and prepare for the stormy period of class struggles ahead. Please make a donation to help us reach more readers and to widen our socialist campaigning work across the world.

Donate via Paypal

CWI- Please inform us if you are reproducing any material from this site.