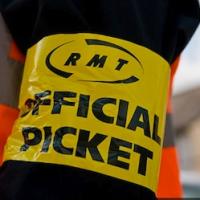 Big industrial battle brewing in London underground
A big strike battle is developing on the London Underground between the Rail, Maritime and Transport union (RMT) and management.
London Underground are cutting 750 jobs and attacking terms and conditions of employment.
The larger political context is that the right wing Mayor of London, Boris Johnson, wants to smash the RMT, which is seen as one of the most militant unions in Britain, in order to enhance his chances of leading the Conservative Party in the future.
Video from flash mob organised by RMT. The even coincided with the announcement of two 48 hour strikes in February.
Interviews with RMT activists Eamon Lynch, John Reid and Sean as well as NSSN chair and Socialist Party member Rob Williams.
Below we publish a video produced by the Socialist Party (CWI in England & Wales)
socialistworld.net