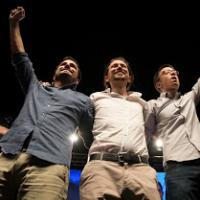 Solamente conseguiremos un gobierno de izquierda a través de una gran movilización y lucha de las masas
Los resultados de las elecciones del pasado 26 de junio sin duda han sido decepcionantes para muchos activistas y también para capas más amplias de la clase trabajadora y jóvenes en el estado español. Las encuestas preveían el esperado sorpasso, es decir, que la coalición Unidos Podemos adelantara al PSOE no solamente en votos sino también en escaños, pero sin embargo, las elecciones arrojaron una caída importante de votos, de más de un millón, con respecto a los resultados obtenidos por IU y las diferentes candidaturas de Podemos en las elecciones del 20D. A pesar de ello, se mantiene el mismo número de escaños, 71, y Unidos Podemos tendrá un peso importante en el Congreso como oposición. Además, se consolida este resultado electoral como reflejo del periodo de luchas importantes en el estado español desde 2011 y la crisis de los partidos del bipartidismo que siguen estando muy lejos de sus resultados anteriores a la crisis.
También a muchos ha extrañado la subida del PP en más de 600.000 votos y 13 escaños a pesar de la caída en la participación y porque se esperaba el efecto de los últimos casos de corrupción, incluyendo las conversaciones del ministro del Interior, Fernández Díaz, y el ex director de la Oficina Antifraude en Catalunya, y los Papeles de Panamá que han salpicado de forma importante a políticos del PP. Sin embargo, éste puede bien explicarse a partir de la concentración y movilización del voto de derecha contra los resultados esperados de Unidos Podemos, la pérdida de más de 400.000 votos de Ciudadanos que seguramente han vuelto a sus votantes de origen, y una cierta percepción de mejora económica y del empleo aunque muy débil y que no recupera los niveles de vida de años anteriores.
Con estos resultados electorales, sigue existiendo una situación de relativo bloqueo en cuanto a la formación de gobierno, ya que el PP con sus 137 escaños sigue teniendo muy lejos la mayoría absoluta de 176 escaños. Incluso para la investidura en segunda vuelta, en la que es necesario que el candidato a presidente obtenga más votos a favor que en contra sin contar abstenciones, no está completamente claro el resultado. Aunque unas terceras elecciones no son completamente descartables, el escenario más probable es alguna forma de "Gran Coalición". Esta probablemente se plasmará en un gobierno de minoría del PP apoyado en la investidura por la abstención o voto favorable de PSOE, además de Ciudadanos.
Como ya hemos analizado en Socialismo Revolucionario, el factor más importante en el próximo periodo será en todo caso el de la inestabilidad y debilidad del nuevo gobierno, sea cual sea su formación. Esto significa que será un gobierno mucho más susceptible de responder a las demandas de la calle y de ser influenciado por la movilización que el anterior gobierno de mayoría absoluta del PP. Por mucho que el establishment se sienta más reforzado después del 26j, es evidente que no va a ser capaz de resolver todas las crisis que hay abiertas y son muchas las tensiones que van a aparecer y se van a convertir en verdaderos dolores de cabeza para el nuevo gobierno: desde los recortes ya anunciados para ajustar el déficit en el próximo periodo, hasta las tensiones nacionales que se van a ver reforzadas por la idea de que España es cada vez más irresoluble.
Nuevo periodo de luchas
Como comentamos anteriormente, desde 2011 entramos en un nuevo periodo con luchas muy significativas en el estado español: 15M, huelgas indefinidas en Panrico y en servicio de limpieza de Madrid, huelga de los mineros, varias huelgas generales, marchas de la dignidad… Sin embargo, desde hace más de dos años, ha habido un periodo de reflujo importante de estas luchas, debido principalmente a la entrada en el ciclo electoral que empezó con las europeas de 2014 y el surgimiento de Podemos y de las confluencias locales o autonómicas.
Aún así, un gobierno previsiblemente débil como el que saldrá de estas últimas elecciones abre la posibilidad no solamente de elecciones anticipadas porque las tensiones no dejen al PP terminar la legislatura, sino también de una vuelta a la movilización en las calles contra las nuevas políticas de recortes y ataques a nuestros derechos que el nuevo gobierno imponga. Esta movilización hubiera sido también necesaria incluso si (y cuando) pudiera gobernar Unidos Podemos u otra candidatura similar de izquierda, ya que las presiones de la UE y otras instituciones capitalistas igualmente intentarán forzar estos ataques y frenar cualquier intento de reforma positiva para las masas populares.
Unidos Podemos y la unidad de la izquierda
Mucho se ha especulado sobre las razones de la bajada de apoyo a Unidos Podemos, desde poner en cuestión la utilidad de la coalición, un discurso y programa no claros, la interpretación de qué grupo político ha sido culpable de la repetición de elecciones (en sectores no ideologizados se podría culpar mayoritariamente a Podemos), la campaña del miedo, etc.
Sin duda, todos estos factores han jugado un papel en los resultados electorales, pero para Socialismo Revolucionario, el factor más importante es precisamente el nombrado en el apartado anterior, la casi total ausencia de luchas en el último periodo mientras se daba prioridad al plano electoral e institucional. Esto se corresponde con una visión de que simplemente a través de estos planos se puede cambiar la sociedad, cuando la realidad de gobierno, por ejemplo, en los llamados ayuntamientos del cambio, ha mostrado que hacen faltas auténticas políticas de ruptura que pongan en cuestión los límites capitalistas que imposibilitan reformas y medidas a favor de la clase trabajadora.
Junto con la falta de movilización, otro problema fundamental de la coalición de Unidos Podemos es que fue un pacto realizado por las cúpulas de ambos partidos en lugar de la construcción desde las bases y de forma democrática de esta coalición. A partir de estas bases sería posible el impulso de las luchas en las calles necesarias en el siguiente periodo, además de la clarificación del programa necesario para salir de la crisis y resolver los problemas más urgentes que han surgido como consecuencia de éstas: pobreza y desigualdad brutal, desahucios y no acceso a vivienda digna para gran número de personas, desempleo masivo y con millones de familia sin prestación, servicios públicos recortados, expulsión de estudiantes de la universidad por subida de las tasas, etc. Todos estos temas han estado prácticamente ausentes durante la campaña electoral, la cual se ha centrado mucho más en la formación del nuevo gobierno y en acusaciones constantes entre los diferentes partidos.
La construcción de una futura victoria electoral que lleve a un partido de nuestra clase al gobierno y que consiga verdaderamente cambios duraderos en la sociedad y mejorar los niveles de vida de todas se basará en estos pilares: mayor organización desde las bases de la coalición para hacerla más democrática y que sea verdaderamente un movimiento de la gente que quiere representar; programa claro y rupturista que resuelva verdaderamente la emergencia social de muchas personas en el estado español, y movilización por la defensa de nuestros derechos y revertir los recortes ya sufridos.
Todo ello debe de empezar por una reflexión profunda y debate constructivo sobre estos tres ejes en todas las expresiones del movimiento, tanto en movimientos sociales como sindicales y por supuesto en el seno de la coalición Unidos Podemos y de los partidos que la componen. La falta de un análisis riguroso de la situación puede llevar a la falsa conclusión de que no hay nada que hacer y al discurso fácil del derrotismo. Si este análisis no se produce o se intenta aparcar de forma artificial el riesgo de desapego entre la calle y los movimientos que la representan puede ser muy alto.
A pesar de que la decepción ha sido grande ante unas expectativas muy elevadas, no hay que olvidad que más de cinco millones de personas han votado conscientemente por un cambio real progresista. Esta es la base de apoyo acumulada durante todo el proceso de luchas de los últimos años, y no hay que olvidar que el potencial sigue siendo mucho más grande.
Special financial appeal to all readers of socialistworld.net

Support building alternative socialist media

---

Socialistworld.net provides a unique analysis and perspective of world events. Socialistworld.net also plays a crucial role in building the struggle for socialism across all continents. Capitalism has failed! Assist us to build the fight-back and prepare for the stormy period of class struggles ahead. Please make a donation to help us reach more readers and to widen our socialist campaigning work across the world.

Donate via Paypal

CWI- Please inform us if you are reproducing any material from this site.