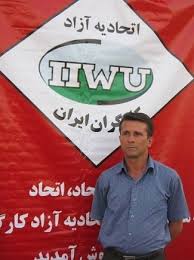 Iranian workers need solidarity
On 25 May seventeen miners in north western Iran were publically lashed on orders of the judiciary after their employer sued them for protesting against the dismissal of hundreds of their colleagues.
In December 2014, miners at the Agh Darreh gold mine in West Azerbaijan Province protested in front of the mine's guard station after 350 miners were laid off. Subsequently the company operating the mine filed an official complaint against 17 of the miners, who were then summoned to court.
The result of two separate court rulings, made in Takab city, sentenced miners to between 30 to 100 lashes each, while others were each fined around $164. The United Nations declared lashing a cruel and inhuman punishment, tantamount to torture.
In the first court session, eight miners were accused of "preventing people from conducting business by brawling and creating noise," of "insulting the company guard…destroying the guard's clothes and detaining him illegally" and "deliberate destruction of the company's sign."
In the second session, nine miners were accused of "preventing people from conducting business by brawling and creating noise."
Lashing
This is not the first time that workers have been subjected to lashing in Iran. In August 2014, four workers from the Razi Petrochemical Company (RPC) in Khozestan Province were sentenced to six months of imprisonment and 50 lashes each, with the sentence suspended for two years. In March 2015, five workers at the Chadermaloo mine in Yazd – Ali Hemat-Cheragi, Naser Sheykhi, Siyavash Jamalpoor, Hoseyn Halvani and Ali Narimani – were sentenced to suspended prison terms, monetary fines and flogging, on the charge of disturbing the public peace and rule. They are currently waiting for the final verdict of the appeal court.
In 2014, bakery workers in Sanandaj city, west Iran, protested and demanded a wage rise. Yadolah Samadi, Secretary, and Eqbal Shabani, Inspector of the Bakery Workers' Association, was sentenced by court to suspended prison terms and 50 lashes, on the charge of disturbing the public peace and rules.
Two well-known jailed activists, Jafar Azimzadeh secretary of Free Iranian Workers Union, and Esmail Abdi, secretary of Teachers Association of Iran, issued a joint statement protesting against poverty wages, temporary work contracts and the use of 'acting against state security' charges against and criminalization of trade union activities, the assembly of and strikes by workers and teachers.
In protest against attacks on workers' rights and organisations, they went on a hunger strike on April 29 2016. Esmail Abdi was released on bail on May 14, but Jafar Azimzadeh is still in jail and after more than 50 days being on the hunger strike, the government, purposely, does not accept his conditions. Jafar Azimzadeh said that "I will not stop my hunger strike unless the government does accept my conditions."
The majority of workers and teachers jailed activists, like Behnam Ebrahimzadeh, Mohamad Jarahi and other political prisoners, went on a limited hunger strike in solidarity with Jafar.
Jafar's medical condition became urgent and, on 30 June, he ended his 64 day hunger strike and was released, pending a new trial. Esmail Abdi is still imprisoned and on hunger strike and it is crucial that he gets solidarity and support from the unions and worker activists around the word.
Protests via email and twitter should be sent to:
Leader of the Islamic Republic
Ayatollah Sayed 'Ali Khamenei
Twitter: @khamenei_ir (English) or @Khamenei_fa (Persian)
Email: info_leader@leader.ir
President of the Islamic Republic of Iran
Hassan Rouhani
Email: media@rouhani.ir
Twitter: @HassanRouhani (English) and @Rouhani_ir (Persian)
The Judiciary of the Islamic Republic of Iran – High Council of Human Rights
Permanent Mission of the Islamic Republic of Iran to the United Nations
Email: iran@un.int
Please send copies to Campaign in Support of Iranian Workers karzarpki@gmail.com