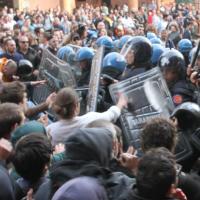 Activists banished from Bologna on trumped up charges
On 6 March, activists in Bologna found themselves being chased out of town by the city police. They had been lined up in court on trumped up charges connected with a protest in the city ten months ago. These included 'unlawful assembly' and 'aggravated robbery' (based on a policeman having dropped and lost his baton!). In a draconian ruling reminiscent of medieval times (or indeed those of Mussolini), nine of the accused were in effect deported from Bologna at 2 hours' notice, being told by the judge to make themselves scarce or face immediate arrest and imprisonment!
Last May, students and precarious workers had attempted to gather in a Bologna square to hold a gathering of their protest movement. Since Bologna's authorities had not "authorised" the assembly, riot police moved in immediately, attempting to prevent the assembly taking place. The well-organised activists were able to stand their ground and forced a humiliating retreat by the riot police.
Determined to take revenge
However, police and city authorities were determined to take their revenge. They initiated prosecution proceedings against the 15 activists present – all of whom play leading roles in the Bologna workers' and social movements. They included a member of the USB trade union and Giuliano Brunetti of ControCorrente (CWI in Italy). As Giuliano commented from 'exile' in Genoa: "This is a clear attempt to tame Bologna's social movements by decapitating them!
We call on student and trade union activists internationally to send protest messages demanding the immediate withdrawal of this flagrant denial of basic civil and democratic rights, and an end to repression.
This case highlights the shameful hypocrisy of the Italian state and government. As ControCorrente commented: "Draconian punishments are handed out to activists, while the real criminals are appointed ministers by the President of the Republic… to paraphrase George Orwell, the law is applied equally for all, but for some more equally than for others".
Protests should be sent via ControCorrente info@controcorrentesinistraprc.org.
A report on the ControCorrente web-site (http://lnx.associazionecontrocorrente.org/site/?p=1644) carries a statement by the union USB, one of whose organisers was amongst those summarily banished from Bologna.
Special financial appeal to all readers of socialistworld.net

Support building alternative socialist media

---

Socialistworld.net provides a unique analysis and perspective of world events. Socialistworld.net also plays a crucial role in building the struggle for socialism across all continents. Capitalism has failed! Assist us to build the fight-back and prepare for the stormy period of class struggles ahead. Please make a donation to help us reach more readers and to widen our socialist campaigning work across the world.

Donate via Paypal

CWI- Please inform us if you are reproducing any material from this site.