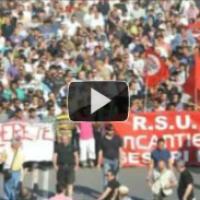 Genoa traditions celebrated with film and music
The shipbuilding workers of Genoa conducted a powerful struggle against privatisation and closure of their yards. This round of the battle has been victorious (see report on this site of 23 February 2012).
A video about the 'Fincantieri' struggle has just been produced with the accompanying refrain 'There's no future without Fincantieri'. It sets the shipyard battle in the context of the city's long tradition of struggle and has already received considerable media publicity.
Video production is by Fabio Mantero and Alessandro Torrisi.