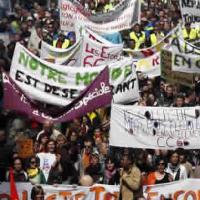 Es necesario una campaña sostenida de movilizaciones y huelgas, para imponer una alternativa a la reforma laboral y los recortes
Basta de convocatorias simbólicas y de paz social. Pongamos fecha a la siguiente huelga general, esta vez de 48 horas
Socialism Revolucionario.
La reforma laboral supone el mayor ataque contra las conquistas de la clase trabajadora, en términos de derechos laborales, desde los primeros tiempos del franquismo. Abarata los despidos cuando la cifra sobrepasa los 5 millones de parados y más de la mitad de la juventud se encuentran sin trabajo. Facilita para la aplicación de EREs , lo que les da patente de corso para aplicar despidos colectivos y destruir puestos de empleo, empeorando, para los que siguen, la pesadilla del trabajo precario.
Pero esta reforma sólo representa el comienzo. Forma parte de una agenda de miseria, de recortes y de destrucción del estado de bienestar, que tienen bien planificada los capitalistas, tanto españoles, como internacionales. Rajoy, Rubalcaba, y el duetto Merkel-Sarkozy, a coro con los grandes medios de comunicación, dicen que éste es el único camino posible, que hay que pagar la deuda y tranquilizar a "los mercados". Han construido un consenso alrededor de estas políticas.
Pero sabemos que esto es mentira – la austeridad de Zapatero y ahora de Rajoy no ha conseguido mejorar de ninguna forma el impacto de la crisis. No ha conseguido solventar el pozo sin fondo de la deuda, ni tranquilizar a los mercados, que siguen pidiendo mas sacrificios. Como aztecas, pretenden sangrar a la sociedad y la juventud a favor de sus "dioses": la patronal, los banqueros, y los grandes capitales privados. Está cada vez más claro, para un sector cada vez más amplio de la clase trabajadora y la juventud, que estas políticas sólo nos llevarán de cabeza al desastre. No nos queda más opción, que luchar por un camino alternativo.
Huelga General como el primer paso, para emprender una campaña de movilizaciones y huelgas
La huelga general del 29-M es un paso muy importante en el comienzo de una lucha así. Nos servirá para dar una muestra del poder de la clase trabajadora. Esto, se reflejará en la parálisis global de la economía, así como en las manifestaciones multitudinarias. Esta convocatoria, ha sido posible como resultado de la presión de las masas trabajadoras en las últimas movilizaciones, y en la base de los sindicatos, desde el anuncio de la contrarreforma, hacia las culpulas sindicales, principalmente de aquellos sindicatos mayoritarios que, como CC.OO. y UGT, intentaron retrasar hasta lo indecible la convocatoria de una huelga general, con una primera propuesta en Mayo, a fin de seguir, en aplicación de la política de paz social, el camino de menor resistencia posible. 
La huelga del 29-M es, así, una primera conquista de los trabajadores, de las bases sindicales, de la energía y el ejemplo de contestación social, frente a la represión y las políticas de recortes, de las masas estudiantiles y populares en la primavera Valenciana etc. Pero lamentablemente, no bastara. Tenemos que organizarnos desde abajo. Debemos seguir ejerciendo presión a las direcciones vende-obreras de los sindicatos, y asegurarnos que éstas no pacten, una vez más, una nueva derrota vergonzante, como la que pactaron después de la huelga general del 29-S de 2010.
Esta huelga tiene que ser llevada a cabo por trabajadores/as, jóvenes, parados, exigiendo la convocatoria de Asambleas de Trabajadores, en los distintos centros de trabajo, organizando Comités de Huelga, así como Asambleas de Profesores y Estudiantes y Grupos de Trabajo en escuelas y universidades, o Asambleas de Vecinos en los barrios. Asambleas y Comités abiertos a todos los trabajadores, con independencia de su filiación sindical, estén o no afiliados a un sindicato. Es aquí, donde debemos debatir las estrategias de la lucha, sobre cómo proseguir la movilización después del día 29-M. Lo que tenemos claro es que para poder frenar la ofensiva del gobierno y del sistema, una única huelga no será suficiente. Hemos visto la resistencia heroica de la población trabajadora en Grecia, con 18 huelgas generales aisladas. Sin un plan sostenido de lucha, sin una serie de huelgas que intensifiquen paulatinamente la lucha y den continuidad, los trabajadores nos veremos impotentes en evitar que implanten sus políticas antiobreras, o que las cúpulas sindicales reincidan en pactar una derrota tras otra.
Es necesario poner ya fecha, para una huelga general de 48 horas, con la amenaza de huelgas de duración mayor, en caso de ser necesarias, para aplastar la reforma, así como trasformar el movimiento sindical en una herramienta combativa y democrática de lucha. La crisis internacional, también supone la necesidad de una estrategia deresistencia y lucha internacional coordinada. Hay huelgas generales sobre la mesa en varios países, como la convocada en Portugal para el día 22-M. Pero no hay ninguna estrategia o plan para coordinarlas. Las próximas huelgas ibéricas, y mas alla en la "periferia" de Europa, deberían ser simultaneadas y coordinadas. 
También es necesario armarnos con alternativas políticas, que sí existen. La izquierda tiene una responsabilidad histórica en este sentido, de plantear y popularizar alternativas contundentes, las cuales pasan por el rechazo y la cancelación del pago de la deuda especulativa que no es nuestra, es fruto de la acción especulativa de los bancos privados; o la nacionalizacion de la banca y sectores estratégicos de la economía bajo del control democratico para poder llevar a cabo una política ofensiva de inversión masiva pública en empleo y servicios sociales de calidad. Con políticas así, contraponemos el carácter democrático de un sistema de gobierno que dé participación, a la amplia masa de los trabajadores, a la dictadura actual de los mercados y el capital . Sólo así, los movimientos juveniles y obreros, tienen a su alcance la puerta libre para avanzar hacia la trasformación total de la sociedad, hacia la reconstrucción total de la economía bajo nuevas formas socialistas, al servicio del pueblo, e ir solucionando, uno tras otro, los problemas fundamentales de la clase obrera y de la amplia mayoría de la sociedad. 
Special financial appeal to all readers of socialistworld.net

Support building alternative socialist media

---

Socialistworld.net provides a unique analysis and perspective of world events. Socialistworld.net also plays a crucial role in building the struggle for socialism across all continents. Capitalism has failed! Assist us to build the fight-back and prepare for the stormy period of class struggles ahead. Please make a donation to help us reach more readers and to widen our socialist campaigning work across the world.

Donate via Paypal

CWI- Please inform us if you are reproducing any material from this site.