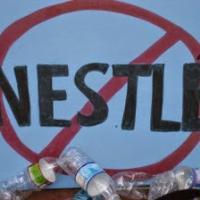 Union leader, Muhammad Hussain Bhatti, released on bail
Muhammad Hussain Bhatti, President of the Employees Union at CBA Kabir wala factory was released on bail from Multan prison after spending almost two months in prison on baseless and false cases. The anti-terrorism court ordered his release after the prosecution failed to justify the case against him under anti-terrorism laws.
He still cannot move around freely and has been living in hiding since his release because he is wanted for many cases registered against him at the behest of Nestle management. The threat of his re-arrest is there and that why he is trying to get bail in the other cases. His release is a morale-boosting success for the Nestle workers. The Nestle Employees Union is engaged in a long and hard fought battle against the anti-worker and repressive policies of the Nestle Pakistan management.
The International solidarity campaign organised by the CWI played key role in his release. This international solidarity campaign put lot of pressure on the Nestle management. The SMP (CWI in Pakistan) is grateful to all sections for sending protest letters and showing solidarity for Nestle workers and arrested leaders. We are also thankful to all the trade union leaders, activists, MPs and comrades for their solidarity. The SMP is especially grateful to the three Socialist Party (CWI in Ireland) members of the Irish parliament for their solidarity.