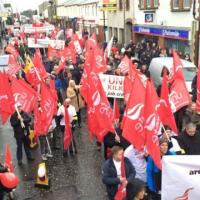 Union movement should step up call for nationalisation of threatened factories
On Saturday 8th February, 800 people gathered in Ballymena, Northern Ireland, at a rally called by Unite the Union in opposition to the threatened destruction of manufacturing jobs in the area. The JTI Gallaher cigarette factory and the Michelin tyre plant – the largest employers in the town – are to close with the loss of almost 2,000 jobs, which would have a devastating impact on the local community. The rally – the first of its kind in the town since 1982 – was called by Unite's local Area Activist Committee (AAC) to try to secure a future for Ballymena and its young people. It received backing from local sports clubs and community associations, as well as high-profile support from award-winning actors Liam Neeson and James Nesbitt, both natives of the town.
"I'm proud to be a unionised worker", said John Allen, Unite convenor in the Michelin factory and Chair of the AAC. "A worker is far from powerless. When we stand together, we are unstoppable. Today shows that when we, as a community, stand together, there is nothing we cannot achieve. In our unity, there is strength. We don't accept that we have to be treated like a commodity. We won't be just the object of investment decisions. We won't sit on the side-lines and watch as Ballymena is left an economic wasteland."
Actor Liam Neeson sends support
Socialist Youth member Emma Montgomery – a 19-year-old from the town, whose mother used to work at JTI Gallaher – told of the bleak future already facing young people in the area thanks to Tory and Stormont cuts. Many have to travel long distances to get access to college courses and the jobs on offer are overwhelmingly low-paid and precarious. The loss of these manufacturing jobs would see many young people abandon any hope of having a decent life in the area.
Correctly, the AAC had agreed that local politicians would not be allowed to use the rally as a platform and engage in electioneering (Northern Ireland Assembly elections are due to be held in May). However, some politicians were present in the crowd and heard the stark message from Shaylen Caulfield of the Ballymena Youth Council: "Our politicians are too busy fighting amongst themselves, engrossed in our history, to see that a disaster for the next generation is unfolding before their very eyes today. Open your eyes, Stormont [the Assembly buildings]! The youth of Ballymena demand better. We deserve it!"
The national and regional leadership of Unite were represented on the platform. Assistant General Secretary Tony Burke got applause and cheers when he declared: "We want jobs, decent jobs. We want skilled jobs. We want decent apprenticeships. We don't want zero-hour contracts, we don't want agency work. We want decent jobs for our families and our grandchildren."
Irish Regional Secretary Jimmy Kelly told the crowd, "We're not here to demand crumbs off the top table. This is to demand a better future, a future for our class, across all communities."
Unite the Union – particularly its local activists – are to be congratulated on this excellent initiative. It is vital that working class communities do not simply lie down and accept the loss of manufacturing jobs. While it is absolutely correct to lay blame for the economic crisis at the door of the Stormont politicians and place demands for investment upon them, the companies behind the closures should not be let off the hook. Neither of them are in financial crisis. They are shifting production to lower-wage economies to maximise profits. The trade union movement should step up the call for nationalisation of factories threatened with closure by profit-hungry bosses, in order to save jobs and skills. The Socialist Party and Socialist Youth were the only political group to intervene in the rally and raise this demand.
Link up with public sector workers resisting austerity
Unite officer, Susan Fitzgerald, told us, "This is just the start of the fightback. We will keep the pressure on the politicians, to demand concrete answers to the crisis facing the Ballymena area. We intend to spread and deepen this campaign, linking up with public sector workers resisting austerity and young people demanding a future."
Socialist Youth and Socialist Party members
Unite's Deputy Regional Secretary, Jackie Pollock – who chaired the rally – was absolutely right to say that people should ask questions of the politicians about what they will do to provide decent jobs when they come looking for our votes in the upcoming Assembly election. The best way to put this and other class issues, front and centre in the election campaign, would be for trade union activists to stand their own candidates in opposition to the right-wing and sectarian based parties. The Socialist Party wants to work with others to make this a reality.