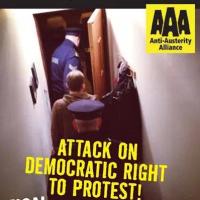 Arrests of Anti Austerity Alliance elected representatives and We Won't Pay activists is another cheap attempt to denigrate the movement against the water charges
Arrests of Anti Austerity Alliance elected representatives and We Won't Pay activists is another cheap attempt to denigrate the movement against the water charges
Blatant political policing will fail to stem the impending mass boycott of bills
Speaking of this mornings events Joe Higgins TD said:
"The arrests of AAA TD [Irish member of Parliament] Paul Murphy, councillors Kieran Mahon and Mick Murphy and a fourth person who remains to be identified to us as we go to press is a cheap attempt to denigrate and weaken water charges movement as we approach make or break time – bills coming out and need for mass non-payment.
"This is the product of a "criminal" investigation involving six Gardai [Irish police] and an 'incident room' in Tallaght [South Dublin] since November. Numerous local people and activists have been interviewed over that time during which the investigating Gardaí have constantly enquired about Paul Murphy's connection with the events of 15th November. Ordinary people in Tallaght and everywhere else will see this as way over the top and a disgraceful and criminal waste of Garda time and resources.
"Is this investigation about anything serious or is it about creating bad publicity for the anti water charges movement, for Paul Murphy TD, for county councillors Kieran Mahon, Mick Murphy, the We Won't Pay campaign, the Anti Austerity Alliance and the Socialist Party."
Ruth Coppinger TD added:
"Where is this investigation coming from? Direct orders from the Government via the Department of Justice may or may not be the case but it is more likely that the Garda have decided to exaggerate and trump up the events of November 15 last year to help the government who are on the back foot on the water charges.
"On November 15 a small protest in Jobstown was swelled spontaneously when word went round that Tanaiste Joan Burton was in the area. This resulted in the delaying of the Tanaiste for a couple of hours as people made clear to her their opposition to water charges and her attacks on the community as Minister for Social Welfare.
"This was a strong but peaceful protest. The AAA people arrested today did not organise the protest but participated in it and helped ensure that the community could make their point but also that it remained peaceful. It is ironic that on the day, at the time, on the ground, the local police recognised the role that they played and even thanked Paul Murphy!
"This will not deter the people of Tallaght, Dublin South West or around the country from continuing to protest but in particular to make sure that the bills coming out in April will be met with mass non-payment. The water charges will be defeated."