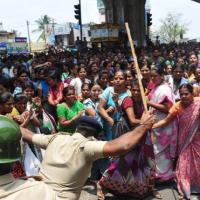 Eye-witness account of successful protest
Garment workers in Bangalore have held their first-ever mass strike. Tens of thousands of workers – the majority women – came out on the streets against the proposed restrictions on the amount of their own money they can withdraw from the provident fund (PF) scheme. Fearing a spread of working class protests across the country, the government. has decided to roll back the PF restrictions for now.
While many activists are in a celebratory mood in relation to the deferral, it is a mere postponement. The capitalist ruling class and its slavish political representatives will do everything at their disposal to return with a vengeance and achieve what they want.
In our opinion, it is not yet a real victory. Both the BJP (Bharatiya Janata Party) in power now and the Congress party (in opposition) are adamant on the issue of labour reforms and have been eying the body of provident funds for almost two decades.
Despite the violence unleashed by lumpen elements in the crowds to discredit the workers' struggle, it has managed to create a widespread questioning and fighting consciousness among the working class. This can be a harbinger for future struggles, especially against the looming anti-worker labour reforms which aims to alter the very nature of collective bargaining and the right to form unions in workplaces.
A participant, Naveen, told socialist.in (the web-site of New Socialist Alternative) about what happened before the victory was announced: "This was the first time that I have been in a protest. It was not organised by any party or union; it was spontaneous. Like most of my fellow workers, I went to work and by lunch time we heard slogans by workers demanding justice. When we stepped out, we saw thousands of workers and were told by the protesting workers that this was a walkout against the new PF withdrawal ruling.
"The protest had started by around 11 am in the morning. Word spread like wildfire through text messages and whatsapp to nearby factories and men and women workers poured out onto the street and started walking towards Jalahalli crossroad for a sit-in protest. Workers came out from all the factories in the Yeshwantpur belt.
"Being in the middle of it all, I was a bit overwhelmed. There were workers everywhere as far as the eye can see. It was especially surprising, given that workers who would normally fear losing their pay for the day choosing to walk out!
"Even some mid-level managers showed solidarity with the protest. Traffic was totally blocked near the Jalahalli crossroad, but that did not prevent the workers from coming. I said to myself, 'So, this is what a revolution looks like'!
"However, our euphoria was short-lived. While a majority of workers chose to walkout, some preferred to stay back and work. A gang of goons, whose political affiliations are unclear, forced many industries to shut down and pelted stones at those who refused. It all went downhill from there, with the police using this pretext to lathi charge (baton charge) workers, who were invariably women. None were spared by the police. They thrashed women and bystanders. We watched to our dismay how workers were being forcefully removed from the protest site."