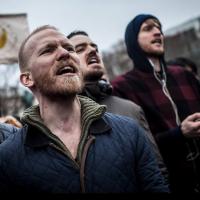 CWI's programme explained
"We can't trust the government's promise of early elections in the autumn, they should resign immediately! They have not even been able to set a date for elections yet."
So says Illug Jökulsson, who still shows up every day outside the Icelandic Parliament in Reykjavik and shows a red card to the government.
From Jonas Brännberg, Rättvisepartiet Socialisterna (CWI Sweden), in Reykjavik
After two weeks, the mass protests against the Icelandic government continue, albeit to a lesser extent than when they first erupted. There are still two ministers left who were involved in the Panama scandal. Moreover, Sigmundur David Gunnlaugsson, the prime minister who was forced to resign, is still his party leader and a Member of Parliament, even though he is "on vacation" until further notice.
It is clear to see that a stormy political period has opened up. Everywhere people are talking about politics, and there is hardly anyone who supports the government. Those who have not participated in the protests outside parliament apologise for it! In the square, there is high awareness that it is a system issue; it is not just about corrupt politicians who have hidden money in tax havens.
Massive anger
The anger against the government is massive and it's not just about the Panama documents. The list is long of scandals and injustices. The government has given free fishing permits for members of the government and lower taxes for the fishing industry that is already making huge profits.
Taxes for the rich have been reduced and the maximum level for bosses' bonuses has quadrupled. The electricity tax for aluminium smelters and the carbon tax has been lowered. Adult education for over 25 year olds has been made impossible, while unemployment and child benefits have been cut. Medical care is falling apart while a promised new hospital will not be built. Wages in the education sector are low and school classes are large.
New constitution
"The big question is how to make democracy work again. The new constitution, supposed to be more democratic, has also been blocked by the ruling parties", said Andri Sigurdsson, one of the organisers of the loose network known as Jaeja.
Andri speaks about the amazing first demonstration the day after it had been revealed that the prime minister had hidden money in tax havens.
"Between 22,000 and 30,000 people gathered here outside Parliament. They were not constricted to the square, but spread into the side streets.
"It is obvious that the movement in 2008, when the banking crisis happened, has had an effect. Then, it started as very small protests outside parliament which then grew. This time, people were more willing to come out right away, there was an example to follow," he says.
About the role of the trade unions, Andri says: "They have not been involved at all. Previously, it was the unions who did all this kind of thing". Since the first massive demonstrations, the protests have gone down in number. On Saturday, April 9, 14,000 participated and this Saturday it was about 1,500. "We need a new strategy for the movement. We're talking about more direct action. So far we have been very 'nice' and not really confronted the politicians. Maybe it's time to change that," Andri says and continues:
"In addition, we need to be more focused on getting the information out – many people know, for example, that the finance minister is lying and is involved in dirty business".
Political crisis
Meanwhile, the political crisis continues to shake the country. This Monday (April 18) the country's 73-year-old president, Olafur Ragnar Grimsson, announced that he was seeking re-election for the fifth time. One demonstrator commented, "Olafur has been president since 1996. Iceland is competing with Zimbabwe and other dictatorships as to who has the longest serving president".
"It's sad for him. He has completely lost any connection to the people and believes he is 'irreplaceable'," said Illug Jökulsson. "I don't think any of the old parties challenge the capitalist system. They focus only on the interests of the big corporations and banks, while ordinary people struggle to survive". Magnus Jensen Asbjörnsson sees himself as a socialist."This movement needs a political weapon and a struggle against the whole system"…"Capitalism is the root of evil!", he says.
A socialist programme
A CWI leaflet in Icelandic explains the crisis and includes a socialist programme of action:
• Spread and develop the protest movement with strikes in workplaces, universities and schools to topple the government.
• The struggle on the streets needs a political tool to challenge the old corrupt system.
• For fighting democratic trade unions that fight for wage increases, for example in the low-paid public sector.
Break the capitalist power elite's grip through a struggle to:
• Stop all privatisation in areas such as energy and fisheries.
• Nationalise the banks and big corporations under workers' democratic management and control.
• Make socially beneficial public investments in health, education, elderly care plus support and welfare for the disabled, as well as create jobs in every part of the country.
Click here for pdf version of the CWI leaflet in Icelandic being distributed on the protests
Special financial appeal to all readers of socialistworld.net

Support building alternative socialist media

---

Socialistworld.net provides a unique analysis and perspective of world events. Socialistworld.net also plays a crucial role in building the struggle for socialism across all continents. Capitalism has failed! Assist us to build the fight-back and prepare for the stormy period of class struggles ahead. Please make a donation to help us reach more readers and to widen our socialist campaigning work across the world.

Donate via Paypal

CWI- Please inform us if you are reproducing any material from this site.