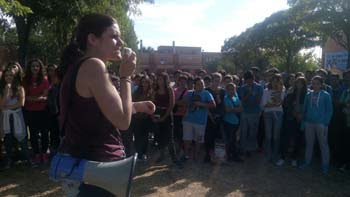 Tens of thousands vote to strike in Student Union pre-strike assemblies
The general strike called by the Sindicato de Estudiantes (Students Union) in the Spanish state, is steadily developing momentum. 26 October will see a mass emptying of the classrooms and filling of the streets in response to this mobilisation, which has also brought CEAPA, a national parents' organisation and teachers unions in different parts of the state, into action.
The Madrid region will, in effect, see a general strike of the education sector, with all teachers unions having backed the strike. In other parts of the state, such as Andalucia and Catalonia, other teachers unions have declared their backing for the strike.
The CWI has mobilised active support and solidarity with the strike in over 15 countries so far, with more to come. Our sections and allies are working hard to organise solidarity events, with protests and actions at Spanish embassies, and at universities on and around 26 October. Working class internationalism in action!
Below we publish a selection of photos from student assemblies in Spain. More reports and updates – including a roundup of international solidarity action, to come in the following days.
Solidarity with the Sindicato de Estudiantes and the struggle of workers and youth in the Spanish state!