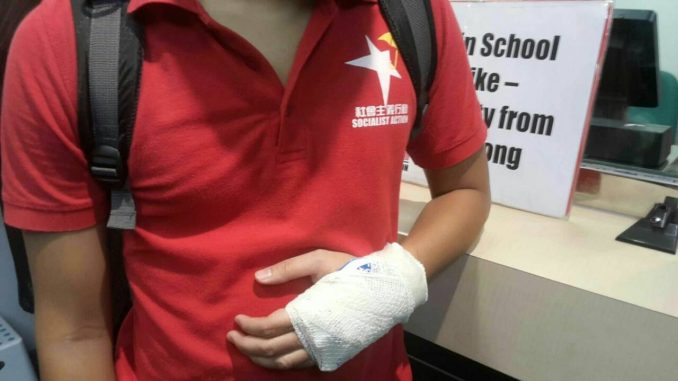 Hong Kong protesters assaulted at support action for Wednesday's national school strike
Socialist Action (CWI) members were attacked at the Spanish consulate in Hong Kong today while protesting peacefully in solidarity with Wednesday's (26/10) nationwide school and student strike in Spain called by Sindicato de Estudiantes. Two protesters were assaulted and had their mobile phones confiscated. The assailant was Santiago Martinez-Caro, Spain's Consul General. He is described as Hong Kong's first "billionaire Consul General". Police intervened to get back the stolen mobile phones. League of Social Democrats legislator 'Long Hair' Leung Kwok-hung also arrived at the consulate to show his support for the protest. One protester had to go to hospital for an arm injury suffered in the attack. "Clearly, the Spanish government's representatives are very uneasy about Wednesday's school strike and international attention. The violent response by the Hong Kong consulate officials is unprecedented – there are dozens of protests every day in Hong Kong and rarely anything like this happens!" said Sally Tang Mei-ching of Socialist Action. "We have filed a police complaint against the consulate and are discussing to call a new protest against the violence," she said.
Special financial appeal to all readers of socialistworld.net

Support building alternative socialist media

---

Socialistworld.net provides a unique analysis and perspective of world events. Socialistworld.net also plays a crucial role in building the struggle for socialism across all continents. Capitalism has failed! Assist us to build the fight-back and prepare for the stormy period of class struggles ahead. Please make a donation to help us reach more readers and to widen our socialist campaigning work across the world.

Donate via Paypal

CWI- Please inform us if you are reproducing any material from this site.