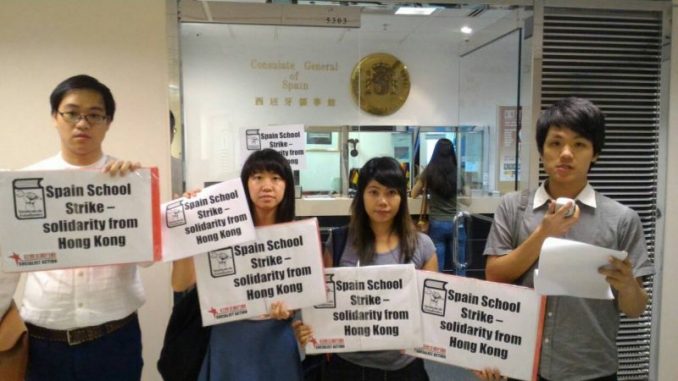 Model resolution
We reported on Monday about a violent assault by Spanish Consul General, Santiago Martínez-Caro, in Hong Kong, on a peaceful demonstration of solidarity by CWI members, in support of the general strike of Spanish students on 26 October.
The Spanish Students' Union (Sindicato de Estudiantes) – which has organised the strike – has initiated a campaign to demand action is taken against the Consul General, which the CWI supports. They have drafted a model resolution which should be used internationally in order to pile on the pressure for a response from the Spanish government.
See the resolution below, and please take action.
socialistworld.net
For the immediate resignation of Santiago Martínez-Caro
FAO the Spanish consulate in Hong Kong espcghk@netvigator.com
FAO of the Spanish exterior ministry
se.aex@maec.es
Please send copies to the Spanish Student Union
sindicato@sindicatodeestudiantes.net and to the CWI cwi@worldsoc.co.uk
We, who sign below, wish to demonstrate our deep indignation at what occurred on 24 October in the Spanish consulate in Hong Kong. A group of students which were peacefully showing their solidarity with the student strike on 26 October in Spain, were violently assaulted by the Spanish Consul General, Santiago Martínez-Caro. One protestor even had to go to hospital.
This voilent behaviour is completely unacceptable and is in direct contradiction with the freedom of expression and right to peaceful protest.
We want to pass on all our support and solidarity to the assaulted students who were only defending the basic right to education, and we thank them for their efforts in organising international solidarity with our strike.
We demand the immediate dismissal of the Consul General for his violent actions and demand that the Spanish Exterior Ministry assumes its responsibility for this shameful behaviour.
NAME:
ORGANISATION:
COUNTRY:
Special financial appeal to all readers of socialistworld.net

Support building alternative socialist media

---

Socialistworld.net provides a unique analysis and perspective of world events. Socialistworld.net also plays a crucial role in building the struggle for socialism across all continents. Capitalism has failed! Assist us to build the fight-back and prepare for the stormy period of class struggles ahead. Please make a donation to help us reach more readers and to widen our socialist campaigning work across the world.

Donate via Paypal

CWI- Please inform us if you are reproducing any material from this site.