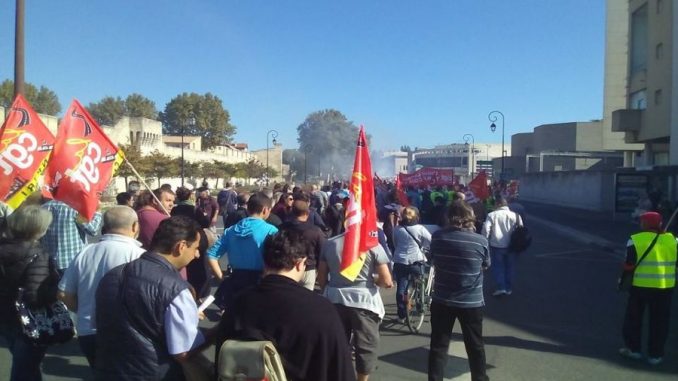 After another day of trade union protests across France, we carry an article on the growing mood of opposition to President Emmanuel Macron and his totally pro-business policies.
Socialistworld
Macron was elected four months ago. In the last two months, he has lost 13 points in the opinion polls and is now at around 35%. It's a clear reflection of his narrow social base in society, but not only that. Each week, his government is announcing his real policy: more and more concrete measures in favour of big business and the rich.
Big business has its best representative at the helm! A whole series of counter-reforms is planned to be carried through in a very short space of time – attacking workers, youth, pensioners. The second 'Labour law' is being pushed through along with higher tax burdens on pensioners and wage-earners, cuts in housing benefits, implementation of university selection, social care 'reform' (cuts), abolition of special pension schemes like the one for railway workers on the state-owned SNCF. Public services like hospitals, universities and local community services continue to suffer from cuts and "flexible" management policies.
To summarise, the kind of policy that Macron is trying to implement, has just one aim. At the end of August, Macron and Edouard Philippe, the Prime minister, decided not to renew most state-subsidised contracts (which are temporary contracts used in a lot of public services and associations that are partially paid for by the state). It has meant that 165,000 people have lost their "job" in just one week – in schools, retirement homes, associations… just before the beginning of the new school year. This is a massive lay-off of the most precarious workers in the country – single mothers or long-term unemployed!
The most prominent attack against workers and youth is the 'Labour Law 2'. It's a new chapter in the destruction of workers' rights in France. In 2016, when Macron was Minister of Economy in the last government, Francois Hollande pushed the ('El Khomri') Labour law reform which provoked a big fightback by combative workers, who were unfortunately eventually defeated. This one, put forward by Macron, virtually eliminates all collective bargaining, introducing local "agreements" as the standard. Those "agreements" would be able to implement worse conditions than what the sectoral national agreements state, even changing working hours or lowering wages. Redundancies will also be made a lot easier to implement. This Labour Law 2 also drastically reduces union rights by merging a number of representative bodies in the workplaces and in each industrial sector.
Big strikes
Last July, the CGT trade union confederation, amongst others, announced a first day of strike and demonstrations on the 12th of September to fight the Labour Law 2 which is on the way to be put through – decreed actually – without a single vote in the Parliament! This strike was successful with more than 300,000 people on the streets in 180 cities in the country. A significant number of demonstrators were young people, even if the CGT unions are based in more industrial workplaces. A new day of strikes and action will take place on the 21st of September.
Several strikes and national days of action in different sectors are scheduled for almost every day. On the 25th of September, lorry drivers will also begin a strike. On university campuses, because of the lack of money to open fully, mobilisations are beginning to take shape. In a lot of schools and hospitals strikes are taking place locally against cuts and lack of personel.
On the 10th of October, a large union front including some unions who agreed not to mobilise against Labour Law 2, like Force Ouvrière (FO) and the CFDT, are calling for a day of strike in civil and public services.
There has not been a mass coordinated movement going on in the country – no real trade union unity to fight back against Macron's policies nor a day of a actual, total general strike. But things are changing fast. It's very clear that the anger has begun to develop into more organised resistance – including with strike actions – in many workplaces in both public and private sectors.
Fight Macron
It's obvious, as the recent 2016 movement showed, that workers and the youth need to discuss more on how to develop the struggle against Macron. This needs to be done in meetings and general assemblies, in workplaces, schools and universities – so that the significance of the counter-reforms can be discussed and understood by the majority. This would also allow discussions on the demands that need to be put forward, and enable everyone to get involved as a participant in the struggle.
There is a need for unions and the left to campaign more widely towards larger layers of the working class and the youth to call for a fight back "tous ensemble" – all together. We need a plan of action, days of strike can't be called in each sector without a plan to strengthen the movement. Also, there is a need to connect the present struggles against the effect of years of austerity (such as in the health sector, universities…) to a national approach by the union federations to fight the new labour bill and other announcements of Macron.
This issue is not widely discussed, but instinctively, a large part of the population agrees with the mobilisation. A recent survey showed 57% of people agreed with the strike on September 12th. But it is also clear that we are struggling against an overall policy, which needs to be opposed by a clear political alternative.
Political perspective
It's not only a matter of having a plan of action. The political question that is on the agenda (like during the movement against the labour law 'reforms' in 2016) is how can we remove Macron and his policies? Today, perspectives are in a certain way clearer, thanks to the existence of France Insoumise, the political movement around Jean-Luc Mélenchon.
This is a new element in the political situation. With 7 million votes during the latest presidential election in May, and 17 MPs elected to the National Assembly in June, this new political formation has become the biggest opposition to Macron, but also to the former PS government, the right wing party, LR (Les Republicains) and Marine Le Pen's FN (Front National). A recent poll showed that 39% think there is no opposition to Macron, 32% think it is France Insoumise, 14% that it is the National Front, 9 the right wing and 3 the PS ('Socialist' Party).
Will FI seize this opportunity? France Insoumise is simply backing the unions' call for demonstrations but doesn't organise debates on a strategy to win. It is also mobilising for a national demonstration 'Against Macron's social coup' in Paris on Saturday, September 23rd. This will be a big step forward towards directly posing the question of the need for a system change. But it is not sure that Mélenchon will actually go that far, despite the need for it.
Amongst broad layers of workers and youth, the demonstration on the 23rd is seen as a useful means to protest with a strong voice against Macron, and not just against the new labour law. This is very significant. Gauche Révolutionnaire has been mobilising for this demonstration. We say it should be seen as the next step after the strike of September 21st and call all those who want to fight Macron and capitalism to come along.
Link up trade union and political struggle
We also have to address two main points. The first one is the division between the union struggle and the more 'political' tone of the 23rd of September demo. We need to end this artificial division between the economic and social aspects of Macron's policy and the political response. That's why for example, unions and workers on strike should come to the national demo called by the France Insoumise.
But also, there is a need to have a united front against Macron. The FI and Mélenchon must play a key role by proposing a democratic and collective platform with other left parties and the unions against the attacks of Macron, especially the Labour Bill. By making such a call, Mélenchoncould help to open the political debate on the need for a new political force on the left, rooted in the masses and building itself on an anti-capitalist and democratic programme.
The situation is so volatile, due to the tense economic situation and the very authoritarian character of Macron's rule, that at any moment the question of a real general strike can appear on the agenda. But this will not happen without a clear step being taken by significant layers of youth, workers and unemployed towards understanding that capitalism has to be and can be replaced.
France Insoumise needs to be broad, and not to be limited to parliamentary agitation. It has to be a combative left! It has to address these layers and call them to join the political fight to really stop Macron's policies and build the struggles and strikes. There is a huge potential to build a powerful movement against Macron, as well as a new, mass, democratic party of the workers and the youth. The need for a political alternative is greater than ever. To stop Macron and take the struggle to a higher stage, we need a clear programme – a socialist programme to put an end to the capitalist disaster – that includes the nationalisation of the main sectors of the economy to be controlled and run democratically by workers and elected representatives.
This is what we stand for as Gauche révolutionnaire, campaigning in the current period inside France Insoumise and broadly amongst workers and youth – to build our revolutionary, socialist forces.