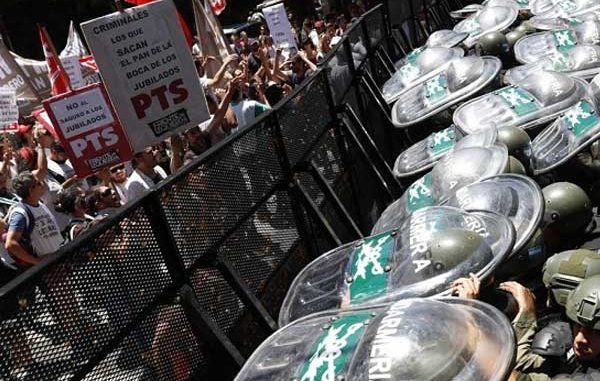 El pasado 15 de diciembre una enorme movilización social puso contra las cuerdas a la coalición gubernamental de Mauricio Macri (Cambiemos). Cuando el Congreso de los diputados tenía que aprobar la contrarreforma de las pensiones, al presidente de la cámara no le quedó más remedio que levantar la sesión plenaria y suspender la votación prevista debido a la enorme manifestación que se concentraba a las puertas del Parlamento.
El Gobierno de la derecha intentó acabar con la movilización por medio de una represión brutal e indiscriminada: nada menos que 3.000 efectivos policiales pertrechados con balas de goma, gases lacrimógenos y tanquetas de agua a presión intentaron dispersar la concentración multitudinaria, pero no doblegaron a los miles de trabajadores y jóvenes que respondieron al llamamiento de las organizaciones de la izquierda combativa y las corrientes sindicales de clase.
Dentro de un Congreso militarizado se podían escuchar con nitidez los disparos indiscriminados de las bolas de goma policiales. Las órdenes de reprimir a todo lo que se movieran llegaron al extremo de que varios diputados del Frente de Izquierdas y los Trabajadores (FIT), que se encontraban en la calle participando codo con codo con los manifestantes, tuvieron que ser atendidos por la enfermería del congreso por la inhalación de gases lacrimógenos y por los golpes recibidos. Mientras tanto agentes de la inteligencia argentina fotografiaban a los activistas que protestaban airadamente dentro del hemiciclo por lo que estaba sucediendo en la calle y para que se suspendiera la sesión.
El nivel de agresividad desatada por el Estado se pudo constatar también en el hecho de que varios familiares de los marineros desaparecidos en el submarino "ARA San Juan" e invitados ese día al congreso, fueron golpeados por la policía al intentar entrar al edificio. Familiares que sólo unos días antes conocieron que se encuentra bajo investigación la compra de recambios presumiblemente defectuosos para favorecer determinados negocios empresariales y que podrían haber llevado al hundimiento del submarino.
Muchos periodistas también fueron golpeados durante la jornada al intentar realizar su trabajo, y algunos han documentado como una vez finalizada la protesta "una caravana de motoristas" de la policía se apresuraron para detener arbitrariamente a decenas de personas que abandonaban pacíficamente el lugar.
Una lucha que puede extenderse los próximos meses
Cuando el pasado mes de octubre en las elecciones legislativas argentinas Mauricio Macri venció en trece de los veinticuatro distritos del país, no fueron pocos los que daban por sentada una nueva y tranquila era para las políticas de la derecha a lo largo y ancho de todo el país. Las nuevas contrarreformas que presumiblemente deberían llegar sin grandes oposiciones tuvieron como preámbulo la celebración de la cumbre de la Organización Mundial del Comercio (OMC) en Buenos Aires. Un acontecimiento con el que gobierno de Macri esperaba obtener importantes negocios para la burguesía argentina, a la vez que erigirse en campeón continental de la "seguridad y el orden".
Pero el gobierno de la derecha no logró evitar las numerosas protestas sociales que se produjeron esos días, al tiempo que los suculentos negocios por los que ya salivaban los capitalistas tampoco pudieron culminarse satisfactoriamente.
Los grandes medios de comunicación tratan de alejar cualquier paralelismo con las históricas protestas que un mes de diciembre de hace poco más de quince años se dieron en Argentina, y que provocaron la caída de 5 presidentes en un período de tiempo de dos semanas. El fantasma del "Argentinazo" podría estar cogiendo un cuerpo demasiado grande para un gobierno que formalmente cuenta con un apoyo importante en las urnas, pero que enfrentado al movimiento de masas puede hacer aguas rápidamente. Como sucede en el Estado español con Rajoy, la fortaleza de Macri es directamente proporcional a los balones de oxigeno que la burocracia sindical de la CGT y el kirchnerismo le proporciona, negándose a organizar una huelga general contundente contra sus contrarreformas.
Hace unos meses Argentina vivió las históricas movilizaciones populares que pedían la aparición con vida del joven activista mapuche de 28 años Santiago Maldonado, asesinado por la policía al finalizar una manifestación. La protesta en estos días contra la reforma de las pensiones muestra el camino de la lucha de clases en Argentina y toda América Latina. Si Macri o ahora Piñeira en Chile piensan que tienen un aval para hacer lo que quieran, pronto van a despertar de su sueño. Las tradiciones y la combatividad de los trabajadores y la juventud argentina cobrarán nuevos bríos en esta dura escuela de ataques y contrarreformas.
Special financial appeal to all readers of socialistworld.net

Support building alternative socialist media

---

Socialistworld.net provides a unique analysis and perspective of world events. Socialistworld.net also plays a crucial role in building the struggle for socialism across all continents. Capitalism has failed! Assist us to build the fight-back and prepare for the stormy period of class struggles ahead. Please make a donation to help us reach more readers and to widen our socialist campaigning work across the world.

Donate via Paypal

CWI- Please inform us if you are reproducing any material from this site.