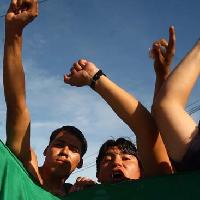 Falta de cambios provocan luchas independientes
El último año, hemos visto un aumento significativo de luchas independientes organizadas por la clase trabajadora, los pobres y campesinos indígenas en contra de las medidas del gobierno del MAS que chocan con sus intereses.
Por dos años consecutivos, los trabajadores han rechazado el aumento salarial del MAS con huelgas y marchas por un incremento que responde al aumento de la canasta familiar.
Al final del 2010, casi toda la sociedad boliviana se levantó en contra del gasolinazo y antes de eso hubo los bloqueos y huelgas generales que paralizaron Oruro y Potosí y la marcha del CIDOB por una reforma agraria más profunda.
Falta de cambios provocan luchas independientes
Estas luchas reflejan una frustración y enojo que está creciendo cada día más entre los trabajadores, campesinos indígenas y pobres que votaron y lucharon para defender a Evo Morales y el MAS porque querían cambios profundos.
Pero después de cinco años, los cambios no han llegado y el giro del MAS hacia la derecha – los pactos con la oposición, la burocratización, corrupción y las medidas neoliberales – está mostrando a las bases que los cambios reales se tiene que ganar luchando.
La necesidad de luchar con una política independiente de clase es particularmente clara para la clase trabajadora que no sólo rechaza los aumentos salariales del MAS sino la nueva Ley General de Trabajo y la Ley de Pensiones también.
Además, viendo que el MAS no lucha por los trabajadores, los empresarios están atacando. Por ejemplo, a los trabajadores de PIL y Norland les están negando el bono de producción y la prima anual, violando la Ley. Lo mismo pasa en muchas empresas más.
Por unidad y socialismo
La falta de cambios y los ataques garantizan que habrá luchas este año, pero esto no asegura la victoria. Tenemos que fortalecernos para ganar.
Primero, necesitamos unidad entre los sectores en lucha. Para esto, precisamos una alternativa real de izquierda con un programa político para ligar las demandas de cada sector con la lucha en contra del enemigo común (el capitalismo neoliberal) y a favor de una solución (el socialismo).
Para superar esto, Alternativa Socialista Revolucionaria (ASR), llama a los trabajadores, campesinos indígenas y pobres, sindicatos, federaciones, OTBs, Fejuves, estudiantes y organizaciones revolucionarias a unirse en un Frente Socialista Amplio.
El Frente debe fomentar el más amplio debate sobre la mejor forma de combatir el capitalismo neoliberal, el socialismo que queremos y cómo construirlo. También, será un gran impulsor de luchas de los oprimidos.
ASR lucharía en el Frente explicando la necesidad de romper con el neoliberalismo y el capitalismo y por un cambio socialista. Para que los trabajadores tengan un salario vital, necesitamos nacionalizar, completamente y sin indemnización, las empresas transnacionales mineras y petroleras.
Esto debe ser el primer paso hacia la nacionalización de todas las grandes industrias para que los trabajadores controlen la producción democráticamente junto con el pueblo y para poder planificar la economía y satisfacer las necesidades básicas de todos.
Para bajar el costo de la canasta familiar y acabar con la pobreza de los campesinos, hay que erradicar el latifundio. La tierra y producción agrícola deben estar controladas por los campesinos indígenas y el pueblo, garantizando la seguridad alimentaria de todos.
Necesitamos sindicatos independientes de lucha
La falta de unidad y una alternativa de izquieda no es nuestra única debilidad. Tenemos que preguntarnos ¿por qué nuestros sindicatos y organizaciones no luchan en contra del capitalismo neoliberal y por el socialismo?
Es porque muchos de nuestros dirigentes son cooptados por el MAS y defienden medidas neoliberales. Para superar esto, necesitamos convencer a las bases de la necesidad de romper con el capitalismo y construir el socialismo, tomar control de nuestros sindicatos y movilizar las bases a huelgas, marchas y bloqueos masivos por nuestras demandas.
¡Socialismo o Barbarie!
Las luchas del último año abrieron la posibilidad de recuperar el camino de movilización de masas que venció a la derecha en la Guerra del Gas e inició el proceso de cambio.
Pero si no nos unimos en un Frente Socialista Amplio, las bases se cansarán y el descenso de lucha será aprovechado por la derecha reaccionaria. ¡No lo podemos permitir! Como siempre, sólo hay dos opciones para los trabajadores, campesinos y pobres: ¡Socialismo o Barbarie!
Special financial appeal to all readers of socialistworld.net

Support building alternative socialist media

---

Socialistworld.net provides a unique analysis and perspective of world events. Socialistworld.net also plays a crucial role in building the struggle for socialism across all continents. Capitalism has failed! Assist us to build the fight-back and prepare for the stormy period of class struggles ahead. Please make a donation to help us reach more readers and to widen our socialist campaigning work across the world.

Donate via Paypal

CWI- Please inform us if you are reproducing any material from this site.