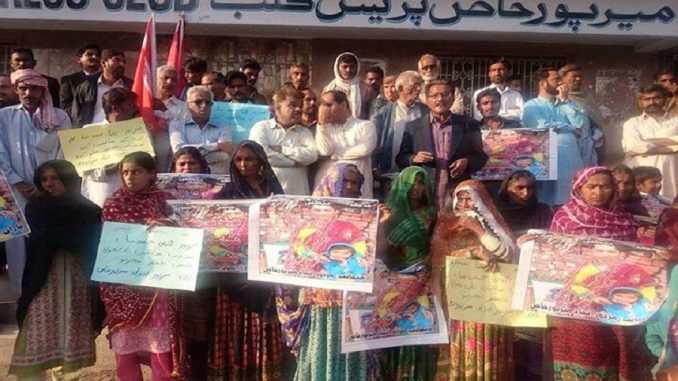 El Movimiento Socialista Sind (SMS) ha sido atacado recientemente por bandas organizadas. La compañera del SMS, Shabana Marri, fue agredida física y sexualmente camino de su oficina. La policía local y las autoridades, que inicialmente se negaron a tomar medidas, ahora han lanzado acusaciones falsas contra dicha denuncia.
Hameed Channah, Shaho Laghani, Mashook, Jamal del Movimiento Sindical Sind y de la Alianza Sind de Trabajadores se enfrentan ahora a cargos falsos por parte de las autoridades. Mientras tanto, la casa de Shabana Marri fue atacada dichas bandas organizadas y ella brutalmente golpeada junto con miembros de su familia. Estos ataques se producen tras las recientes protestas convocadas por el SMS y la Workers Alliance contra extremistas religiosos de derecha y parecen ser llevados a cabo por bandas organizadas dominadas por afganos.
La policía rechaza adoptar medidas, poniéndose del lado de estas bandas que han puesto en peligro la vida cualquiera miembro tanto en el SMS como en la Alianza de Trabajadores. Hacemos un llamamiento a los seguidores y activistas del CIT/CWI a hacer llamadas telefónicas y plantear quejas ante la policía de Sind y ante las autoridades correspondientes que se detallan a continuación, denunciando su falta de respuesta ante estos ataques. Además, llamamos a ponerse en contacto con las embajadas de Pakistán exigiendo que se tomen medidas inmediatas para detener estos ataques.
Los números de teléfono a los que llamar son los siguientes:
Inspector General de la Policía, Sind 009222199212626 – 009222199212627
Diputado Inspector General de la Policía, Sind, 00922339290310-00922339290309
S S P Mirpurkhas – 00922339290305 – 00922339290304
A S P Mirpurkhas – 00922339290308
Estación de policía Satlite Town – 00922339290223
Embajada de Pakistán en Madrid
Avenida de Pío XII, 11
28016
Tel.: 913459138
Fax: (+34) 913458158
Special financial appeal to all readers of socialistworld.net

Support building alternative socialist media

---

Socialistworld.net provides a unique analysis and perspective of world events. Socialistworld.net also plays a crucial role in building the struggle for socialism across all continents. Capitalism has failed! Assist us to build the fight-back and prepare for the stormy period of class struggles ahead. Please make a donation to help us reach more readers and to widen our socialist campaigning work across the world.

Donate via Paypal

CWI- Please inform us if you are reproducing any material from this site.