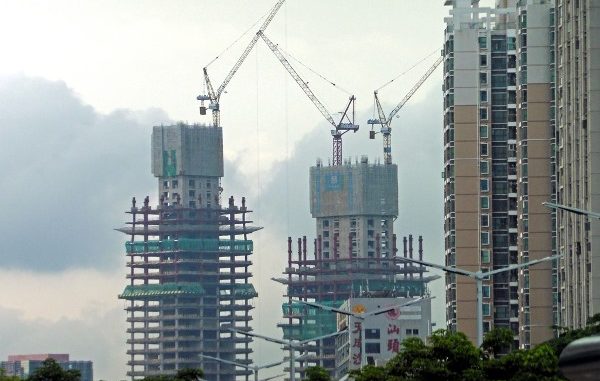 Crane drivers in China's construction industry have taken strike action in dozens of cities across the country. That the strikes are coordinated is a stunning achievement for these workers.
On May 1, Labour Day, the workers' called for a nationwide strike after a week filled with rolling strikes in different regions. Although May Day is a legal holiday in China, large numbers of workers are required to work often without extra pay.
This is China where strikes are illegal, organising is illegal, and protests are illegal. It is unclear how effective the May Day strike action was, given that this was in the face of mounting police repression and attacks against the strikes by state propaganda, in some cases accusing the workers of collusion with "foreign forces". But that takes nothing away from the incredible nature of a strike wave embracing perhaps 20 of China's provinces, organised mainly through online messaging, in the face of the world's most powerful dictatorial state.
From media reports chinaworker.info has seen the strikes which began on 25 April have been reported from Chongqing, Fujian, Gansu, Guangxi, Guizhou, Henan, Hubei, Hunan, Jiangsu, Jiangxi, Shandong, Shanxi and Sichuan provinces. At the time of writing there are reports of arrests, beatings, and police repression from several areas. The Epoch Times reported ten workers arrested in a protest march in Chongqing. Radio Free Asia report 20 arrests in Zhengzhou, Henan province.
Migrant workers
China's crane drivers, like almost all construction workers, are mainly migrants from the poorer rural regions. Like most migrant workers they are hired casually, without job contracts or pensions or medical insurance. Crane drivers work under extreme pressure, on long shifts, without toilet breaks or rest periods.
Construction sites in China famously work around the clock. "If we are required to work for eight to nine hours, and then work more overtime at night, there will be no extra pay," one crane driver from Henan told RFA. "You can work overtime until two o'clock in the morning, and the boss won't care. You can still have to work tomorrow as well," he said.
"We work at least 12-hours a day… we have no social insurance, no labour contracts and go without government supervision," another driver told the Maoist website Epoch Pioneer.
A 2016 government study showed that only one in three of China's 280 million migrant workers have a written job contract. Even for those with a contract there is often a big discrepancy between the pay and working conditions stated in the contract and the actual situation.
The proportion of the migrant workforce covered by a contract has actually fallen in the decade since the new Labour Contract Law was enacted, in 2008, which stipulates that all companies must sign a written job contract with their workers. Another survey from 2016 showed that over half of construction workers have at some time experienced delays in receiving their wages. Wage arrears (of months and in some cases years) are the number one cause of labour disputes in China.
These problems grow out of the 'wild market' conditions in China's construction sector (and not only there) where, although many projects belong to state-owned companies, the actual construction work is contracted out to private capitalist companies which rely entirely upon informal migrant labour. Multiple layers of subcontractors are the norm on such projects so that sometimes it is not even clear which company is responsible for paying wages.
The crane drivers are demanding an increase in their pay from today's level of around 5,500 yuan or as low as 4,000 yuan in some areas, to at least 7,000 yuan (US$1,100) per month. Their wages have stagnated for a decade. The Global Times, a rabidly nationalistic government mouthpiece, reported that the "crane operators protested across China during Labour Day demanding better pay and an eight-hour working day". A striking worker in Chengdu, the capital of Sichuan province, told the newspaper, "There are at least 10,000 crane operators in Chengdu appealing for a salary raise."
Workers organise
The crane drivers have organised themselves online like many other workers in China, setting up closed chat groups on instant messaging apps such as QQ. These forums are attacked and blocked by the cyber police but regroup to maintain contact.
For the so-called Communist Party dictatorship of Xi Jinping the crane drivers' strike poses a major problem, even if the striking workers' demands are 'economic' and do not directly pose a political challenge to the government's hold on power.
We are witnessing the stirring of a giant. Half the world's construction sites are in China and its construction workforce – overwhelmingly migrants – numbers around 60 million. It is a major contributor to China's GDP.
While there are several reports of local authorities moving to suppress the strike with force, as the regime's censorship machinery also moves to snuff out all mention of the protests, the example of the crane drivers' action can live on long after the current struggle.
It is quite simply the most impressive, coordinated and daring action to date taken by any group of workers in China for many years. While it has been a trend in recent years with other groups such as taxi drivers, Walmart workers and delivery workers, to coordinate their actions in different cities and organise themselves using social media, the sheer scale and nationwide reach of the crane drivers' strike is unprecedented.
There is no news yet of the attitude taken towards the strikes by the official state-controlled trade unions. These are the only legal unions in China, but are tightly controlled by the dictatorship to frustrate and prevent workers from striking and organising independently. The official unions have never once supported a strike in China.
chinaworker.info declares our full solidarity with the striking crane drivers, to fight for the realisation of their demands in full. We deplore the state repression against these workers and call for international workers' solidarity with the strikes, and the release of the arrested strikers. The need for independent workers' unions is once again underlined by this struggle, which also shows the enormous potential power of China's working class.