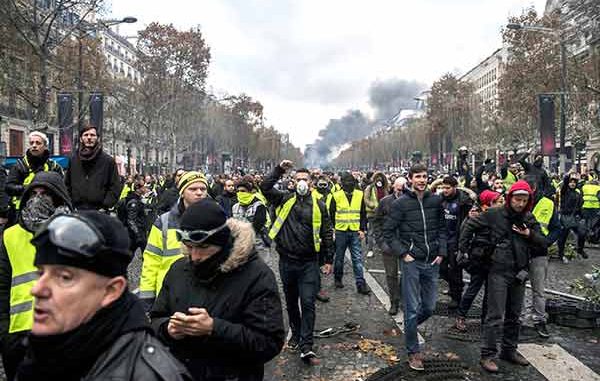 El movimiento de los "chalecos amarillos", como se le conoce porque sus participantes llevan el chaleco amarillo reflectante obligatorio para los conductores, ha provocado un auténtico terremoto político y social en Francia.
El desencadenante es el anuncio de un nuevo impuesto para principios de año que incrementará 6,5 céntimos el precio del litro de gasóleo y 2,9 céntimos el de gasolina. En Francia la mayoría de los automóviles utilizan gasoil, un 80% del consumo total de carburante, y ya el último año el precio ha aumentado un 23%, alcanzando su nivel más alto desde principios de los años 2000. Cada día 17 millones de personas van a trabajar fuera de su municipio de residencia, dos tercios de los trabajadores activos, y el 80% utiliza su medio de transporte personal, por tanto, es normal que la subida del carburante sea un motivo de preocupación para los trabajadores.
El anuncio provocó la indignación popular. Rápidamente las redes sociales se llenaron de mensajes de indignación y surgieron iniciativas de protesta espontáneas que han desembocado en un gran movimiento de masas que ha puesto al Gobierno Macron contra las cuerdas. Las protestas duran ya casi un mes y el 17 de noviembre centenares de miles de personas, según el Gobierno 285.000, pero se habla de una participación superior a las 300.000 o 400.000 personas, organizaron más de 2.500 bloqueos de carreteras, autopistas, refinerías, etc., además de otras acciones de protesta en todo el país. Desde entonces, se han mantenido diariamente los bloqueos y las protestas.
El sábado 24, de nuevo hubo multitud de protestas en las que participaron más de 100.000 personas provocando más de 1.600 bloqueos. La más impactante se desarrolló en los Campos Elíseos parisinos donde se produjeron enfrentamientos muy violentos con la policía; los convocantes denunciaron la presencia de provocadores fascistas y otro tipo de elementos lúmpenes que con sus actos violentos intentaron romper la manifestación. El movimiento hasta ahora se ha orientado a la protesta directa pero ya comienzan a celebrarse las primeras asambleas para discutir las reivindicaciones y coordinar todas las acciones.
Apoyo masivo de la población
El movimiento es socialmente heterogéneo. Sin lugar a dudas, entre los participantes hay elementos políticamente reaccionarios, algo inevitable en este tipo de movimientos, pero estos constituyen una minoría. En su mayoría son trabajadores con bajos salarios, también participan estudiantes, pensionistas, camioneros, autónomos, en general aquellos sectores de la población que han visto cómo durante los últimos años sus condiciones de vida se deterioraban inexorablemente. La protesta se ha extendido como un reguero de pólvora y según las encuestas casi el 80% de la población apoya la lucha.
Macron y su Gobierno, como ya viene siendo habitual, mostraron toda su arrogancia clasista y desprecio calificando a los participantes de 'palurdos'. Además pretenden desacreditarlos acusando a los fascistas de Reagrupamiento Nacional (antiguo Frente Nacional) de estar detrás de todo. Y aunque es verdad que el partido de Le Pen fue uno de los primeros en dar su apoyo, este no ha pasado de las redes sociales. Los medios de comunicación, como es habitual, se han cebado con algunos videos de incidentes de carácter racista o sexista en algún bloqueo, obra de algún individuo o pequeño grupo, pero han sido casos aislados cortados rápidamente por los propios manifestantes, incluso expulsando a los elementos ultraderechistas, y la mayoría de los organizadores del movimiento rápidamente se han desmarcado del partido de Le Pen. El coordinador del movimiento leyó una declaración en la que decía: "Es importante que toda persona que desee participar en este movimiento pueda hacerlo, no importa su color de piel, país de origen, orientación sexual, género o religión… Los chalecos amarillos no son nacionalistas, ni fascistas ni de ningún movimiento extremista… Denunciamos al Gobierno por poner impuestos a los más pobres para enriquecer a los ultra-ricos. Denunciamos las medidas represivas que está realizando el Estado. No a la violencia policial".
Insurrección en la isla de Reunión
El movimiento se ha extendido a los territorios de ultramar y en la isla de Reu­nión se ha producido una auténtica insurrección popular. La isla está prácticamente paralizada, no se puede repostar combustible, los colegios y aeropuertos están cerrados, hay escasez de alimentos y medicinas, el presidente de la región en su petición de ayuda al Gobierno dijo que estaban viviendo una "situación de guerrilla urbana". El Gobierno ha enviado a militares y fuerzas especiales para intentar controlar la situación y está aterrorizado ante la posibilidad de que se extienda al resto de territorios de ultramar. Precisamente la radicalización de las protestas en Reunión refleja la situación de extrema pobreza que sufren la mayoría de los habitantes de las posesiones francesas en ultramar.
La escandalosa posición de las direcciones sindicales
En contraste con las simpatías y el apoyo que tiene el movimiento de "chalecos amarillos" entre la mayoría de la población, está la posición de las direcciones sindicales, que están desaparecidas o no apoyan, como sucede con la CGT, con el argumento de que contienen "elementos de extrema derecha".
Afortunadamente, los trabajadores y la base de los sindicatos sí han comprendido la naturaleza del movimiento, muchas agrupaciones y secciones sindicales se han sumado a los 'chalecos amarillos'. Por ejemplo, la CGT en Reims, Le Havre o Chimie han convocado huelga y han pedido a sus afiliados que se sumen, igual que la federación de transporte de Fuerza Obrera.
Tampoco han podido evitar la confluencia de muchas de las empresas que están en huelga. El 23 de noviembre fueron los trabajadores en huelga de Amazon, pero lo más destacado son los trabajadores de las refinerías francesas que están en huelga por cuestiones salariales y a pesar de la oposición de la dirección de CGT se han unido al movimiento de 'chalecos amarillos', ocupando y bloqueando conjuntamente las refinerías y almacenes de combustible. Pero no son los únicos conflictos laborales, precisamente esta semana hay huelga en la sanidad de todo el país, la semana pasada hubo de profesores y coincide con la negociación colectiva en muchas empresas del sector privado.
Las direcciones sindicales en lugar de ponerse de lado o no apoyar el movimiento, deberían de impulsarlo, poniendo a su disposición sus recursos, aprovechar el potencial que tiene esta rebelión para unir a la clase obrera y luchar hasta conseguir la derrota de Macron, de esta manera no se dejaría espacio para que la derecha o extrema derecha pueda maniobrar y dividir el movimiento. Por su parte, Francia Insumisa, que ha mostrado su apoyo y ofrecido su ayuda al movimiento, debería jugar un papel importante en ese sentido, interviniendo en él de forma decidida proponiendo un programa y una estrategia que unifique las luchas de los distintos sectores.
Ahora la dirección de la CGT pretende recuperar el control de la situación convocando manifestaciones para el 1 de diciembre.
El movimiento de "chalecos amarillos" es una rebelión contra Macron y todo lo que representa: una sociedad tremendamente desigual que aplasta a los trabajadores, a los jóvenes y a los más desfavorecidos para beneficiar a una pequeña minoría de privilegiados.
Special financial appeal to all readers of socialistworld.net

Support building alternative socialist media

---

Socialistworld.net provides a unique analysis and perspective of world events. Socialistworld.net also plays a crucial role in building the struggle for socialism across all continents. Capitalism has failed! Assist us to build the fight-back and prepare for the stormy period of class struggles ahead. Please make a donation to help us reach more readers and to widen our socialist campaigning work across the world.

Donate via Paypal

CWI- Please inform us if you are reproducing any material from this site.