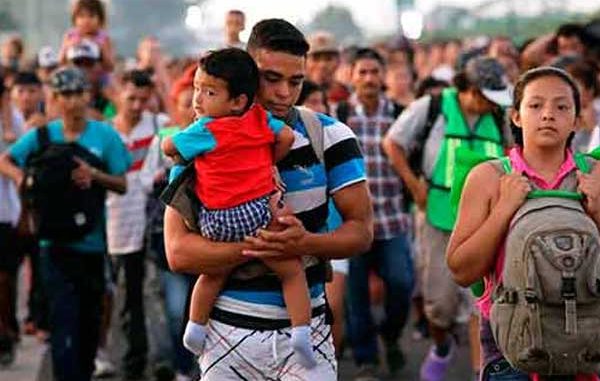 El sábado 13 de octubre un millar de hondureños iniciaron desde San Pedro Sula una marcha en dirección a Estados Unidos, huyendo de la miseria y el hambre que padecen en su país. Esta dura travesía, de más de 4.500 kilómetros, incluye recorrer toda Guatemala y todo México hasta llegar a la frontera estadounidense.
Durante el trayecto centenares de compatriotas hondureños, pero también guatemaltecos y salvadoreños, se han unido a la caravana que hoy en día está formada por más de 7.000 hombres, mujeres y niños. La caravana ha despertado la simpatía y solidaridad de miles de trabajadores a su paso y por todo el mundo.
Los efectos de la dictadura de la oligarquía hondureña
Se trata de la segunda caravana de migrantes de este año, después de que en Pascuas la marcha que se viene celebrando desde hace una década, cuadruplicase su asistencia habitual y más de 1.500 personas, la mayoría hondureñas, llegaran a Ciudad de México pidiendo asilo. Pero la presente caravana es muy superior en todos los sentidos a todas las sucedidas hasta ahora. ¿Por qué miles de familias enteras con sus niños y niñas abandonan sus hogares con tan solo una maleta? ¿Por qué cruzan a nado o en rudimentarias embarcaciones el río Suchiate en la frontera guatemalteca? ¿Por qué saltan la valla del control fronterizo de Tecún Umán? ¿Por qué las amenazas racistas y militares de Donald Trump no les detienen?
Las razones son claras. Cada día huyen de su país 300 hondureños. Sólo en 2018, 200 cuerpos han sido repatriados. Según cifras oficiales, el 64,3% de la población hondureña vive en la pobreza. Su tasa de desigualdad es la más grande de toda América Latina. Además, la violencia desangra el país ensañándose con los más pobres. El año pasado se produjeron 3.791 homicidios.
Por otro lado, centenares de miles de hondureños se han movilizado en las calles en los últimos años contra todas estas injusticias y votado por candidatos alternativos al régimen. Pero la oligarquía hondureña, fuertemente ligada al imperialismo norteamericano, no ha dudado en realizar fraudes electorales y golpes de estado y en reprimir al pueblo. El último fraude desencadenó una rebelión masiva en noviembre de 2017. Pero la falta de un plan de lucha claro por parte de los dirigentes de la izquierda, que dotase a esa rebelión de un programa y una estrategia para derrocar al ilegítimo gobierno, posibilitó a la oligarquía, apoyada por EEUU, imponer el Gobierno corrup­to y fraudulento de Orlando. Este recurrió a policías, militares y bandas paramilitares para aplastar la insurrección de forma sangrienta. Muchas personas también se han sumado a la caravana huyendo de esa represión salvaje.
Las contradicciones de AMLO en México. ¿Convencer a Trump o luchar por derrocarle?
En el momento de escribir este artículo, mientras falta por llegar el resto de la caravana, 3.000 migrantes ya se hallan bloqueados en la ciudad de Tijuana, al norte de México, la mayoría hacinados en un complejo deportivo. Su objetivo es obtener asilo político en Estados Unidos. El Gobierno de Donald Trump ha bloqueado de facto esta posibilidad con una nueva ley, que aunque su aplicación ha sido paralizada temporalmente por un juez federal de California, es bastante probable que Trump consiga superar ese escollo legal. Además, el presidente estadounidense ya ha amenazado con cerrar la frontera sur con México y con cortar las "ayudas económicas" a Honduras, Guatemala y El Salvador. Y para reafirmar su beligerancia contra los migrantes, 6.000 soldados ya han sido desplegados en esa frontera; cifra que podría aumentar hasta los 15.000 y ser reforzada por los más de 2.100 reservistas que ya están preparados.
El Gobierno de México, dirigido en la fase inicial de la caravana por el derechista y derrotado en las elecciones Enrique Peña Nieto, se coordinó con Trump y desplegó fuerzas militares y policiales en la ciudad sureña de Tapachula, en la frontera con Guatemala, con el objetivo de cerrar el paso a los migrantes.
Por su parte, el presidente de México desde el 1 de diciembre, Andrés Manuel López Obrador (AMLO), hasta la fecha sólo ha enviado mensajes abstractos de apoyo a los migrantes e incluso ha afirmado que su objetivo no es enfrentarse a Trump, sino convencerlo. ¡¿Convencer a Donald Trump para que deje de ser un racista?! Podríamos de paso intentar convencerlo para que obligue a los empresarios norteamericanos a que dejen de expoliar la riqueza natural de Honduras, de Guatemala y El Salvador. El pueblo mexicano precisamente votó a AMLO para que se enfrentase a Trump y a sus políticas, y es necesario que levante un gran movimiento de solidaridad en Méxi­co y haga un llamamiento al resto de pueblos de América Latina a apoyar la caravana de migrantes y a rechazar la represión del Gobierno Trump, al mismo tiempo que aplica de forma inmediata mejoras sociales y laborales para la mayoría de la población mexicana y combate a los terratenientes y empresarios que explotan a la clase trabajadora. Esta es la única manera efectiva de combatir los llamamientos racistas de alcaldes como el de Tijuana.
¡Organizar la solidaridad con los migrantes y levantar un gran movimiento contra los Gobiernos que provocan la barbarie capitalista!
Aunque los medios de comunicación burgueses han destacado de forma interesada que decenas de fascistas se han movilizado en Tijuana contra los migrantes, la realidad es que la caravana ha recibido muchísimo apoyo (incluyendo ropa y comida…) y solidaridad durante el largo trayecto: sólo esto explica que se haya mantenido viva y estén a las puertas de su destino.
Medidas inmediatas para asistir a los migrantes son necesarias, pero estas hay que complementarlas con la tarea de organizar la lucha para atacar las causas que provocan la violencia y la miseria que obligan a miles de personas a jugarse la vida huyendo de la barbarie. El origen de la caravana, de la miseria del pueblo hondureño y del resto de Centroamérica es el capitalismo y el dominio de la oligarquía. Figuras como el activista y político Bartolo Fuentes, exiliado en México y acusado por el Gobierno hondureño de instigar la caravana, o los dirigentes de la izquierda hondureña, deben impulsar la lucha organizada en las calles de Honduras para derrocar al corrupto e ilegítimo Gobierno, expropiar a los capitalistas hondureños y las multinacionales estadounidenses e impulsar la movilización de solidaridad y lucha anticapitalista en el resto de pueblos de Latinoamérica.
También es necesario que la izquierda revolucionaria norteamericana trabaje para levantar un gran movimiento de solidaridad en apoyo a la caravana de migrantes, hermanando la lucha contra el reaccionario de Trump con la de sus hermanos migrantes. Hacerlo abriría la puerta a una nueva etapa en la lucha de clases en América Latina y Estados Unidos e impulsaría la lucha en todo el continente.
Special financial appeal to all readers of socialistworld.net

Support building alternative socialist media

---

Socialistworld.net provides a unique analysis and perspective of world events. Socialistworld.net also plays a crucial role in building the struggle for socialism across all continents. Capitalism has failed! Assist us to build the fight-back and prepare for the stormy period of class struggles ahead. Please make a donation to help us reach more readers and to widen our socialist campaigning work across the world.

Donate via Paypal

CWI- Please inform us if you are reproducing any material from this site.