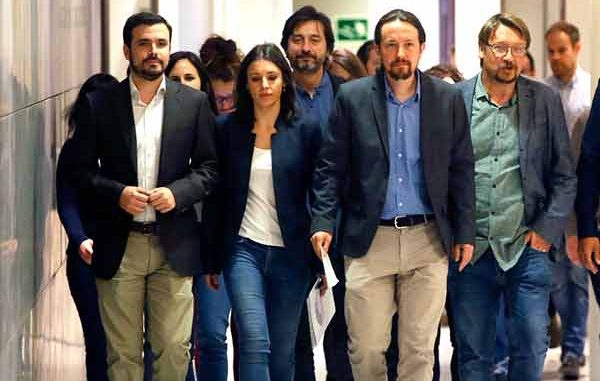 Este mes de diciembre se cumplen los primeros seis meses de Gobierno de Pedro Sánchez y muy pocas cosas han cambiado. Ni uno solo de los grandes compromisos formulados por el PSOE en el período previo a la moción de censura se ha cumplido.
Unido a esta realidad destaca un elemento que ha venido desarrollándose en el último período y que es importante señalar; hablamos de la profundización del giro a la derecha de Podemos que, con su apoyo incondicional al PSOE, está tirando por la borda el prestigio que atesoró cuando su discurso se caracterizaba por la oposición frontal a las políticas de recortes sociales, que tanto PSOE como PP han ejecutado durante décadas, y antes de que el programa aprobado por la Asamblea Ciudadana de febrero de 2017, que apostaba claramente por la movilización de masas como única vía para impulsar el cambio político que anhela la inmensa mayoría, se convirtiera, en la práctica, en papel mojado.
¿Qué queda de Vistalegre II?
La asamblea de Podemos, conocida como Vistalegre II, celebrada los días 10, 11 y 12 de febrero de 2017, vino precedida por una durísima batalla entre dos posiciones políticas antagónicas, la representada por Íñigo Errejón y la que encabezaba Pablo Iglesias.
Más allá de choques personalistas por el liderazgo, este enfrentamiento reflejaba las presiones de la lucha de clases en el seno de Podemos. Las propuestas de Errejón constituían una completa renuncia a los orígenes de Podemos, que nació precisamente como expresión política de la impugnación radical al orden establecido, forjada en el curso de las movilizaciones sociales que tuvieron lugar a partir de 2011. En su lugar, Errejón proponía encaminar el rumbo de Podemos hacia las aguas tranquilas del parlamentarismo, con la esperanza de recibir algún día una invitación del PSOE para formar parte del Gobierno. Por ello no extrañó a nadie ver como los medios de comunicación de la burguesía, con El País a la cabeza, se deshacían en elogios hacia Errejón y la "modernidad" y "apertura" de su programa.
En abierto contraste, Pablo Iglesias preparó la asamblea de Vistalegre reflexionando sobre las causas de la pérdida de casi un millón de votos en las elecciones generales de junio de 2016 y proponiendo una recuperación de los valores fundacionales de Podemos. En las semanas previas a la asamblea, Iglesias radicalizó su discurso con propuestas como nacionalizar las compañías eléctricas para acabar definitivamente con el atraco generalizado de la factura de la luz, que levantaron entusiasmo en la base social de la izquierda.
Vistalegre II fue un paseo triunfal para Iglesias, que barrió completamente a sus adversarios y frustró las maniobras de la clase dominante para domesticar a Podemos e incorporarlo al consenso del régimen del 78. En los días siguientes los editoriales de la prensa burguesa descargaron abiertamente su rabia, al mismo tiempo que dejaban entrever su preocupación ante la posibilidad de que Podemos luchara por hacer realidad el programa aprobado en Vistalegre II, y pusiera en peligro la paz social impuesta gracias a la conjunción de los esfuerzos de PP, PSOE y Ciudadanos, con la sumisa colaboración de CCOO y UGT.
Pero, desafortunadamente, cuando llegó el momento de transformar las palabras en hechos, Pablo Iglesias dio un giro de 180 grados, abandonó completamente las propuestas rupturistas con las que acababa de reconquistar el apoyo de las bases de Podemos, hizo suya la estrategia de Errejón y limitó su horizonte a la consecución de una alianza estable con el PSOE.
Esta deriva derechista de los dirigentes de Podemos se separa completamente del sentir de la calle y se está produciendo en todos los frentes.
Es muy ilustrativo que cuando crece el clamor popular contra un sistema judicial podrido que protege a violadores y maltratadores y que humilla y agrede a las mujeres, y millones de personas comprueban que, lejos de las vacías proclamas constitucionales, este es una herramienta al servicio de los poderosos, Podemos desoiga la voz de la movilización social y opte por convertirse en cómplice de los vergonzosos acuerdos en los que los partidos del régimen se reparten los puestos del Consejo General del Poder Judicial.
Pablo Iglesias, el régimen del 78 y la monarquía
A finales de noviembre el diario El País abrió sus páginas a Pablo Iglesias para que nos hiciese llegar sus propuestas para el futuro. Iglesias hace suya la versión oficial y totalmente falseada de la Transición, y nos propone solucionar la crisis del régimen del 78 resucitando el consenso que estuvo en su origen, sólo que esta vez con ropaje republicano.
Siguiendo los pasos de los dirigentes del PCE y el PSOE que en 1977 dieron la espalda al esfuerzo de miles de luchadores antifranquistas y disfrazaron su traición como "consenso para recuperar la democracia", Pablo Iglesias propone ahora el establecimiento de una república como la "mejor garantía para una España unida sobre la base del respeto y la libre decisión de sus pueblos y sus gentes". El líder de Podemos está cómodamente instalado en la teatral y apacible dinámica parlamentaria, sólo así podemos entender que pueda pensar que a través del consenso en el Congreso de los diputados, sin una amplia movilización social, se va a cambiar la forma de la Jefatura del Estado y que este cambio, por sí solo, transformaría la naturaleza del sistema político que heredamos de la dictadura mediante los acuerdos de la Transición.
Diez años de crisis económica, de ajustes salvajes y de empobrecimiento de la inmensa mayoría de la población han hecho saltar por los aires las costuras de los ropajes "democráticos" con los que se revistió un aparato del Estado al que cada vez le cuesta más trabajo esconder su naturaleza antidemocrática y franquista. En vez de exhortaciones vacías al acuerdo y a recuperar una "España unida", lo que la clase trabajadora necesitamos es una organización de masas que promueva la movilización más decidida para barrer todos los obstáculos que nos impiden disfrutar de una vida digna. La república que necesitamos no es la que nos propone Iglesias, no es la república que se consensua con las élites dominantes, sino la república que se conquista en las calles con movilización y lucha.
Si Iglesias y los dirigentes de Podemos continúan su rumbo actual acabarán convertidos en dóciles y cada vez más irrelevantes socios del PSOE. Pero si de verdad quieren ser la expresión política del profundo malestar de la inmensa mayoría, si de verdad quieren ser una herramienta efectiva de transformación social, entonces deben levantar bien alto un programa de ruptura real con el régimen del 78, un programa que no se limite a retoques formales en la cúpula del Estado, sino que apunte directamente a las causas de la desigualdad, la injusticia y la pobreza. Un programa republicano, sí, pero a favor de una república para las trabajadoras y los trabajadores, a favor de una república socialista.
Special financial appeal to all readers of socialistworld.net

Support building alternative socialist media

---

Socialistworld.net provides a unique analysis and perspective of world events. Socialistworld.net also plays a crucial role in building the struggle for socialism across all continents. Capitalism has failed! Assist us to build the fight-back and prepare for the stormy period of class struggles ahead. Please make a donation to help us reach more readers and to widen our socialist campaigning work across the world.

Donate via Paypal

CWI- Please inform us if you are reproducing any material from this site.