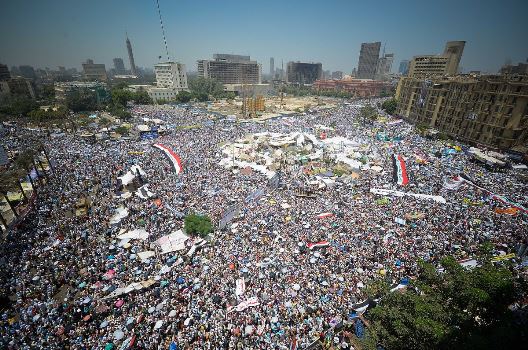 Street protests in Cairo and several other Egyptian cities broke out on Friday and Saturday 20/21 September. Although only involving dozens or a few hundreds, at first, they grew in numbers and spread to other cities. Protesters chanted, "The people want to topple the regime" and "Leave, [President] Sisi".
Tear gas, rubber bullets and live ammunition were fired. Over 2,000 were arrested in the following week. Those arrested were mostly young people, many too young to have taken part in the 2011 'Arab Spring' uprising that overthrew President Mubarak (or to have experienced the same demoralisation felt by many activists from that time later).
Lawyers defending arrested demonstrators, journalists reporting on the protests and some political opponents of the regime have also been arrested.
The following Friday (27th September) saw further street protests in several cities, but these were mostly smaller as the police and security forces mounted a massive operation to stop people gathering. One larger protest was at Warraq Island, in Cairo, where local residents have been protesting for over two years against a development scheme that will force them out of their homes.
A large pro-Sisi rally was organised in Cairo on Friday 27th, with many public sector employees ordered to attend and reports of villages bussing in residents who were rewarded with free food.
These are the first protests on a national scale since 2013, when the military and President Abdel Fatah al-Sisi took power. Demonstrations are banned with severe penalties of arrest, imprisonment and torture. Trump has called Sisi his "favourite dictator".
Most Egyptian daily newspapers did not mention the protests. Some foreign news websites and some social media services were blocked.
An unlikely instigator
The initial call to demonstrate came from an unlikely source. Mohamed Ali – a former actor, Ferrari-driving owner of a building contractor business and now living in Spain – released daily videos during the previous two weeks accusing Sisi and his regime of corruption. Public money was used, Ali said, to build themselves luxury palaces, 7-star hotels and holiday villas. As the building contractor on several of these projects, Ali was a credible witness. Claiming he was owed LE220million (£11million,US$13.5m, €12.4million) for work his company had carried out seemed a convincing motive to many watching these videos.
He accused two Major Generals, one of them now the Minister of Transport and the other the head of the Armed Forces' Engineering Authority, of illegal acts in the building of a luxury hotel for military intelligence in New Cairo. Ali was the contractor for the project, which he claimed cost more than LE2 billion (£98million). He also built a presidential villa in Alexandria for Sisi and his family costing LE250 million (£12.5million). He claimed military leaders decided to build a number of villas for themselves next to a large palace for the president so they would all be in one area.
After the viral spread of Ali's videos, Sisi felt compelled to respond. He addressed the accusations at the eighth National Youth Conference, which was hurriedly called just 44 days after the seventh conference! The Egyptian Media Group, owned by the General Intelligence Service and controlling nearly all media outlets, was given just four days to prepare this conference. Sisi did not deny the construction of palaces and holiday villas, claiming they were not for his family and ministers but for the benefit of Egypt.
Other videos then came out on social media adding new allegations to Ali's. Some were from people identifying themselves as former security and military officers who appeared to have inside knowledge, which gave their allegations more weight. One video accused President Sisi and his son, Mahmoud, of involvement in a business smuggling goods from Sinai into Gaza and that the state had refused an offer from tribal leaders in North Sinai to rid the region of terrorist cells.
They struck a chord with Egyptians struggling to make ends meet. "Now we come to the presidential palaces," posted a fitness instructor on Facebook, watched 2.6 million times. "… believe me this hurt all of us. We're all barely getting by. We're a mess. So when we hear about the presidential palaces you're building and your answer is 'I'll still build more' … Who said that modern states are judged by their ability to build luxurious presidential palaces? … Why are they being built? Even if they aren't for you, these serve one individual and we have so many people that we need to serve. So tell me, why are they being built? Why are you provoking us?"
Over the past three years, the government has implemented an austerity programme agreed with the International Monetary Fund in return for a US$12 billion loan. Value-added tax was introduced, subsidies on electricity and fuel cut and the currency devalued, all sharply raising the cost of living.
The economy's annual growth rate increased to 5.5 per cent, the highest since 2010 and unemployment has fallen. Morgan Stanley economists described Egypt as "the best reform story in the Middle East" (8.6.19). But 32.5 percent still lived on less than US$1.40 a day in 2018, up from 27.8 percent in 2015. There are signs the economy is now slowing again, with non-oil foreign investment falling to its lowest level for five years in the first quarter of 2019.
Low pay and poor working conditions
The harsh punishments for workers protesting against low pay and poor working conditions – who are branded terrorists by the regime – have mostly stopped workplace struggles from developing. But just two weeks before the street protests broke out there was a three-day strike and sit-in at the Uglu factory in Ismailia for not receiving an annual pay rise. Six workers were jailed for 15 days.
Economic pressures against a background of slowing world trade are taking the shine off Sisi's promises that political stability, the IMF loan and construction of large infrastructure projects would transform the lives of Egyptians. The beginnings of disagreements and splits within the military-based regime are emerging. There was initial hesitation over how to handle the street protests before a crackdown was launched. This may reflect a mood among more junior officers and ranks of the security and armed forces who are also hit by rising prices.
Workers and youth will gain in confidence as protests continue to spread. Previous appeals for action by human rights campaigners did not get the same response but many now feel they cannot continue to suffer austerity cuts in their living standards while the super-rich and senior armed forces officers get even richer. However, workers and youth need their own organisations and democratically elected leaders, not a disgruntled wealthy businessman like Mohamed Ali.
Rebuilding trade unions, community and youth organisations is necessary – a difficult and dangerous task but which may become a little less risky with the regime under growing pressure. Nearly nine years after Mubarak's downfall, the lessons of that uprising need to be drawn. A mass working class movement is more powerful than any dictatorship when it leads the youth, the poor and middle classes into action. But to win power and start to transform society, a worker's party with a revolutionary socialist programme needs to be built. Linking demands for jobs with decent pay, housing, health and education for all with a democratic programme, including trade union rights requires the banks, big companies and land estates to be taken out of the hands of big business, generals and admirals, nationalised and placed under democratic workers' control.
The mass protests in neighbouring countries, including recent revolutionary upsurges in Sudan and Algeria, and the rejection of all the establishment presidential candidates in Tunisia, show the potential for building a movement fighting for a socialist federation across North Africa.