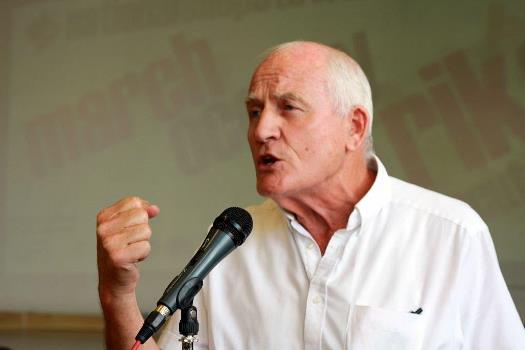 We are sad to inform our readers, members of the Socialist Party and the broader labour movement, of the death, at 80 years of age, of Tony Mulhearn; a titan, a courageous leader of the working-class movement in Liverpool and Merseyside, as well as a lifelong, proud member of Militant, now the Socialist Party.
He was also an intelligent and astute leader of trade unionists, an implacable opponent of the bosses, determined to defend all workers' living standards, particularly opposing right-wing trade union leaders.
He is perhaps better known as a mass leader of Militant as well as the Liverpool District Labour Party (DLP) during its epic struggle with the Thatcher Tory government in the 1980s.
He was chairperson of the DLP for many years, with attendances at the monthly meetings of the DLP climbing to 700 – the biggest of any section of the Merseyside labour movement.
The right wing of the Labour Party considered the DLP, which implacably opposed them and their programme of council cuts, to be a small "unrepresentative caucus"!
Like other supporters of Militant, Tony was hounded and eventually expelled from the Labour Party by its leader, Neil Kinnock, and his right-wing cronies, for the 'crime' of standing up for and defending the marvellous Liverpool working class.
Without those like Tony and many other working-class heroes, within the ranks of Militant, and on a wider level in the broad labour movement, the colossal achievements of the Liverpool City Council – of a mass council house building programme, new schools and parks, etc. – would not have been possible.
Tony Mulhearn's achievements – together with the immortal 47 Liverpool councillors, who stood firm against Thatcher and the right-wing sell outs in the labour movement itself, like Neil Kinnock – would not have been possible without mass support from the working class, endorsed in every election while they were in power.
Like generations of workers before him, Tony was vilified and attacked by the bosses and their representatives, victimised and forced at one time to hunt for any kind of job to keep the wolf from the door, for standing up for his class.
This only acted to deepen and consolidate the respect and love that Tony generated, not just in his steadfast family, but in the ranks of Militant and amongst working people, in general.
We will carry a much fuller tribute to Tony and recognition of his and Militant's achievements in Merseyside in next week's Socialist newspaper.
He remained firm to the end in his support for the Socialist Party, and for a socialist Britain and world.