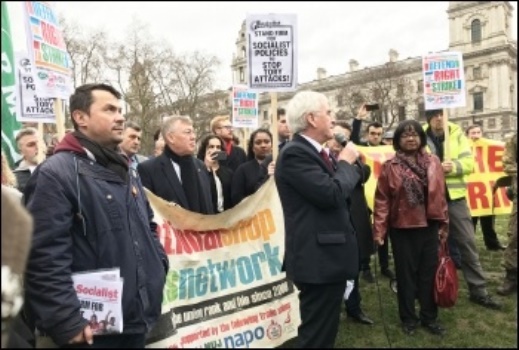 The Queen's Speech in parliament on Thursday 19 December, outlining the policies of the new Tory government, included an outrageous attack by prime minister Boris Johnson on the right to strike.
Johnson intends to introduce minimum service levels for the running of transport during industrial action – an attempt to stop transport workers from having the right to withdraw their labour.
Trade union members from the Rail, Maritime and Transport workers' union (RMT) demonstrated outside parliament in central London as part of this start of a fightback against this attack, alongside the National Shop Stewards Network (NSSN), Socialist Party members and others.
The National Shop Stewards Network (NSSN) had moved its planned 1pm demonstration to instead start at 12.30pm, to coincide with the one called by the RMT, in order to have maximum unity and turnout.
RMT speakers included general secretary Mick Cash and assistant general secretary, Steve Hedley. Mick Cash made it clear that the protest was just the beginning of the fight.
Speaking for the NSSN were its chair Rob Williams (who chaired the protest rally) and secretary Linda Taaffe.
Rob Williams stressed that no union should be left isolated and that joint action by the trade unions is needed, including a Saturday demonstration in London next year which should be called by the TUC.
Linda echoed this and pointed to the incredible mass NHS strike that took place in Northern Ireland the day before, as proof of the willingness of workers to take action if they are given a lead. Johnson's plan is "a strike-breakers' charter" and must be defeated, she said.
.
.