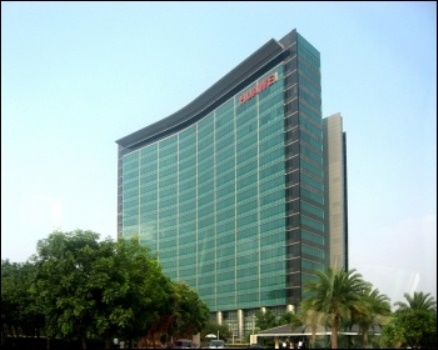 As expected, UK Tory Prime Minister, Boris Johnson, approved Chinese tech giant Huawei gaining licences to build 5G web network infrastructure in Britain.
Huawei is currently the largest provider of 5G technology, and already provides some of the infrastructure for 3G and 4G internet. The government's own report suggested that if Huawei were blocked, it would delay 5G by two years.
5G telecoms should increase download speeds and reduce the 'latency' time phones take to connect to networks. It could also support more devices, around one million per square kilometre, opening up the possibility of the increasing use of remote or autonomous technology.
The high profile of this decision reflects increasing global trade tensions and the complicated position facing British capitalism as Brexit moves forward.
Trump and the US government placed significant pressure on Johnson to join the US and Australian capitalism in blocking Huawei completely.
This included threats by the US to stop sharing state surveillance data through the 'Five Eyes' intelligence alliance. Another Five Eyes member state, New Zealand, has blocked some Huawei equipment, and the final member state, Canada, is still debating the issue.
Trump doesn't want to lose further ground in US capitalism's ongoing trade war with China. Meanwhile, Chinese capitalism has been building up infrastructural control around the world – including Europe – through its 'Belt and Road Initiative', among others.
Other European states have come under significant pressure too. 70% of Germany's 4G network is provided by Huawei, with a similar decision about 5G looming there. There are reports that Angela Merkel wishes to make a similar stand to Johnson, particularly motivated by China being German capitalism's biggest trading partner.
As well as these battles for influence between the major powers, the deal has opened up rifts in thinking between different sections of the British capitalist class. One section wishes to maintain open trade relationships with China and other world powers, reflected in the support for Johnson's proposal in both the Financial Times and the Economist, among other bosses' journals.
Another section of capitalists and their supporters wants to tie British capitalism more firmly to the US. This position is reflected by a number of Tory MPs, including grandees like Iain Duncan Smith and Home Secretary Priti Patel – and is backed by a ConservativeHome survey showing 77% of Tory members opposed Huawei's involvement in UK 5G infrastructure.
However, trade links to Washington are not the only factor for this section. Much of the furore over the Huawei deal centres on worries about 'back doors' in its systems that Chinese intelligence services could exploit.
Public concerns over the safety of digital information are legitimate. However, it is pure hypocrisy from the UK and US intelligence services, which are already involved in similarly undemocratic surveillance.
Under capitalism, there is no way to fully stop such abuse. The only way to end it would be to take both the private ownership of the technology – and the capitalist state itself, which fundamentally needs secrecy and repression to defend the profit system – out of the equation.
Balancing act
In reality, the access that Johnson has allowed Huawei reflects his attempt to balance these competing trade and political pressures – with access only to 'non-core' infrastructure such as masts and antennae; a ban from use in military bases and nuclear sites; and a cap on Huawei's market share at 35%.
And this decision is the latest in a series of tensions between the US and British governments, such as Johnson rejecting Trump's demand to re-impose sanctions on Iran.
It also follows the Tories' proposal for a digital services tax of 2% on the revenues of big tech firms, with the US threatening retaliatory taxes on car imports. The French government had proposed a 3% levy, but delayed it after mutual threats of tariff escalation between the US and EU.
While Johnson is keen to sign a new trade deal with the US, it seems this is not at the expense of keeping other options open. Journalist Annabelle Dickson reportedly said that "former ministers and officials who are familiar with the mindset of Johnson and his top adviser Dominic Cummings say privately that modern tech infrastructure is much more important to the pair's vision for the UK's future economy than trade with the US, welcome as a quick deal would be."
What the saga shows is that there is no plain sailing for the Tory government trying to navigate the trading seas post-Brexit in an increasingly volatile period for world relations.
Special financial appeal to all readers of socialistworld.net

Support building alternative socialist media

---

Socialistworld.net provides a unique analysis and perspective of world events. Socialistworld.net also plays a crucial role in building the struggle for socialism across all continents. Capitalism has failed! Assist us to build the fight-back and prepare for the stormy period of class struggles ahead. Please make a donation to help us reach more readers and to widen our socialist campaigning work across the world.

Donate via Paypal

CWI- Please inform us if you are reproducing any material from this site.