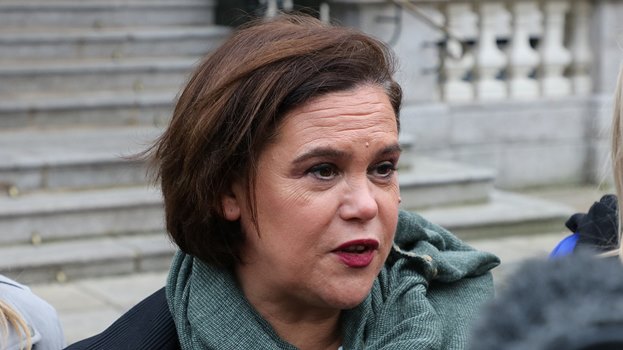 The general election in Ireland saw a seismic change in the electoral landscape, with a big surge in support for Sinn Féin. Presenting itself as a radical, anti-establishment alternative, Sinn Féin was able to channel much of the voters' anger, especially among the youth.
The party, which had its first TD (a member of the Dáil – the Irish parliament) elected in 1997, took 24.5% of the vote. Prime Minister Leo Varadkar's right-wing Fine Gael was pushed into third place on 20.9%.
Fianna Fáil, another pro-capitalist party, which propped up the last Fine Gael government, came second on 22.2%. At a combined 43%, this is the lowest vote for the two main parties of southern Irish capitalism in the history of the state.
Fine Gael has been in government since 2011 after voters severely punished Fianna Fáil for the capitalist financial crash that led to an international bailout and severe austerity.
Varadkar's attempts to sell himself as a safe pair of hands to continue presiding over recent economic growth failed badly. The election was dominated by the acute housing and health crisis.
Alongside economic growth, there have been high levels of inequality, homelessness, insecure jobs and low pay and attacks on pensions. For all the fulsome praise by the Irish and European media for Varadkar's diplomacy during the Brexit crisis, an exit poll for RTE (state broadcaster) suggest only 1% of voters saw Brexit as a priority.
For decades, Sinn Féin was contemptuously dismissed to the 'fringes' of politics in the south of Ireland by the main parties. As the 'political wing' of the Provisional IRA, Sinn Féin's support was stymied in the south.
From the signing of the 1998 Good Friday Agreement (the basis of the Northern Ireland 'peace process'), the party attempted to extend its appeal in the south by reassuring the ruling class that the 'armed struggle' is over and the party in government would not be a fundamental threat to their interests. At the same time, Sinn Féin campaigned on social and class issues in working-class areas to broaden its support, with limited success.
In 2016, Sinn Féin replaced its longstanding leader, Gerry Adams, with Mary Lou McDonald – hoping that replacing a figure closely associated with the IRA with a middle-class Dubliner would gain wider support. But in the last European and local elections, Sinn Féin was disappointed by its showing at the polls.
The Sinn Féin leadership did not expect a significant change in the 2020 general election and fielded a limited number of candidates in the multi-seat constituencies.
Like all the main parties and media, Sinn Féin underestimated the well of anger amongst voters at the cost of living and crisis of housing and health. This meant that the party failed to fully exploit the massive voter shift towards it, which went way beyond its traditional base and included sections of the middle class. Sinn Féin ended up with one less seat in the Dáil than Fianna Fáil.
Both Fine Gael and Fianna Fáil previously stated they will not share power with Sinn Féin. Now that Sinn Féin is likely to hold the balance of power, Fianna Fáil leader, Michael Martin, has stopped short of ruling out a coalition with Sinn Féin.
Days and even weeks of horse-trading are possible, as the main parties try to cobble together a coalition government. Should Sinn Féin use their unprecedented levels of support to prop up another right-wing, cuts-making coalition, with either Fianna Fáil or Fine Gael, they may deservedly suffer the same fate as the Greens, in 2011, and Irish Labour Party, in 2016, which were punished by voters for participating in such coalition governments.
A Sinn Féin coalition with Fianna Fáil or Fine Gael would be seen as a betrayal of the hundreds of thousands of working-class people looking for radical political change.
Alternatively, Fianna Fáil and Fine Gael could try to form a coalition, with the latter propping up the former, this time. But this would be a risky strategy. More of the same unpopular right-wing policies would mark the continued historic decline of the two main parties of big business.
If Sinn Féin cobbles together a coalition government with Labour, the Greens and others, their willingness to deliver on their claims to help working people will be severely tested and judged by the working class, many of whom will have big hopes in such a change of government.
They will be under huge pressure from their working-class voters to deliver on housing, health and other key issues. However, the track record of Sinn Féin, Labour and the Greens, in governments, North and South, shows they carried out austerity cuts and imposed new taxes on working-class people, for example.
All Left TDs should make it clear that they will not take part in a coalition government that is not prepared to stop austerity and to break with pro-capitalist policies.
Whatever the resulting forms of coalition government, the mould is truly broken. The major swing to Sinn Féin is an indication of a working-class revolt, in a distorted form, against the establishment and right-wing policies.
Left parties
The Sinn Féin surge put pressure on the smaller left parties and alliances trying to hold onto their Dáil seats. In several constituencies, they most likely would have lost out to Sinn Féin if the party had run more candidates.
CWI Ireland called for a vote for genuine left-wing candidates and alliances. Despite major political differences with the current Left groups in the Dáil, CWI Ireland recognises the importance of retaining a Left presence in parliament.
All three People Before Profit (PBP) TDs were reelected, more or less matching their 2016 general election performances.
Paul Murphy (RISE) saw a fall in first preference votes but retained his seat in Dublin South West.
The Solidarity TD, Ruth Coppinger, lost her seat in the Dublin West constituency. Mick Barry, from Solidarity, saw his first preferences fall by over 50% in Cork North Central but he retained his seat on the 14th count, largely as a result of a surplus from Sinn Féin.
This was always going to be a challenging election for the left but CWI Ireland believes that inadequate policies of many left candidates compounded their difficulties. Ruth Coppinger, for example, played an important role in the fight for abortion rights in the Dáil but her campaign mistakenly promoted gender politics over class politics, employing such slogans as 'For Women – Vote Ruth'.
The major shift in the political landscape shows that there will be good opportunities for the left to build. CWI Ireland will continue to campaign for bold socialist policies and for the building of a strong political voice of the working class and youth rooted in the communities, unions, workplaces and colleges.
More analysis on the Irish elections, Sinn Fein and the Left will follow on socialistworld.net