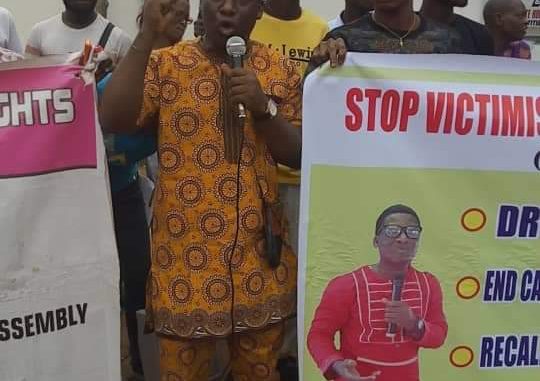 Drop Trumped-up Charges, Recall Sacked Workers and End Slave Conditions in Sumal Foods
Abiodun Bamigboye (Abbey Trotsky), the acting National Chairperson of the Socialist Party of Nigeria (SPN), is again due in court on March 3 facing four criminal charges of conspiracy to commit breach of public peace, unlawful assembly, assault and "malicious damage". These charges are part of a sustained campaign by Sumal Foods Limited, Ibadan, Oyo State, Nigeria and the state authorities after a strike at Sumal in 2018.
The Campaign for Democratic and Workers' Rights (CDWR) – a campaign platform of the Democratic Socialist Movement (DSM) – intervened to help the October 2, 2018, strike action by casual workers at Sumal over pay and poor working conditions. Since then Abbey Trotsky, who is the Oyo State Coordinator of the CDWR, has been facing four different court cases.
The management of Sumal Foods, sadly in connivance of right wing/reactionary leadership of National Union of Food, Beverage and Tobacco Employee (NUFBTE), is using the police to persecute Abbey Trotsky with trumped-up criminal charges at magistrate court. Indeed, before Abbey was first arraigned in court he had been arrested and detained many times by the Police and Department of State Service (DSS) – the Nigerian Secret Police.
In addition to the criminal matter there are three civil matters – one at magistrate court and two at the National Industrial Court – instituted by the company and the outsourcing companies that recruit casual, insecure and poorly paid workers for Sumal Foods.
All the cases came up at different dates in January 2020. Their next adjourned dates fall between March and April 2020. Specifically the criminal case comes up on March 3, 2020.
The basis for all these numerous cases is to deter members of the CDWR, particularly Abbey Trotsky, from intervening in the plight of poor casual workers at Sumal and also to strike fear into the heart of mass of casual workers in the company, especially now that the enactment of the new 30, 000 naira ($82 a month) minimum wage will mean that workers could begin to demand an increase in their daily pay.
Despite the continued persecution of comrade Abbey Trotsky, members of CDWR have remained undaunted and resilient as they had launched a campaign against casualisation and indecent labour practices not only in Sumal Foods but also in other workplaces in Ibadan and its environs. Political activities are also organised on regular basis by members of CDWR to support the legal defence being handled by a number of lawyers led by Mr Adeyinka Olumide-Fusika of Citipoint Chambers on a pro bono. These political activities have greatly helped to deepen and strengthen the campaign against casualisation and indecent labour practices such that CDWR is gradually becoming a point of attraction to some layers of workers who are not only dissatisfied with their slave working conditions but also interested in a fight back.
At the moment, over 20 workers from four different Ibadan workplaces have joined CDWR and are actively involved in the campaign against casualisation and in activities regularly organised to support the legal defence against the persecution of comrade Abbey Trotsky. We thank all members and supporters as well as civil society and socialist organisations locally and internationally, particularly members of CWI, and our lawyers for all their solidarity and support which has helped to sustain the struggle this far. We equally recognise the fact that to sustain and build on this campaign will require more solidarity action and financial support both locally and internationally.
We call for immediate dropping of all trumped-up charges against Abbey Trotsky at the magistrate court; withdrawal of all frivolous civil cases in the industrial courts; that the NUFBTE leadership must defend interest and rights of workers including casuals and end its unholy alliance with the management; reinstatement of all workers sacked because of their involvement in the struggle for better pay and conditions; and Sumal management must end slave conditions in the company, end casualisation and respect law laws and regulations.
It is in the light of this that we call on the leadership of the three labour centres, Nigeria labour Congress (NLC), Trade Union Congress (TUC) and United labour Congress (ULC) at the national and state level, industrial unions, civil society organisations and socialists locally and internationally for more solidarity actions including physical presence at the court, public statements, petitioning and picketing of Nigerian Embassies and High Commissions. These can also include financial support to support the political activities and campaigns towards the struggle on the plight of workers in Sumal Foods, Ibadan, and against casualisation, outsourcing and other anti-labour practices.
We request that sms protest messages should be sent to the following persons:
-Federal Ministry of Labour Oyo State Office – +2348035676740
-President, Nigeria Labour Congress (NLC) – +2348036556600
-Commissioner of Police Oyo State – +2348038467592
-Speaker Oyo State House of Assembly – +2347032542579
-Police Public Relations Officer (PPRO) Zone 11 – +2348036536581
Copies of all protest letters or messages to be sent to: dsmcentre@yahoo.com or WhatsApp – +2348033914091
Rufus Olusesan, National Chair CDWR
Email: campaignworkers@yahoo.co.uk
Special financial appeal to all readers of socialistworld.net

Support building alternative socialist media

---

Socialistworld.net provides a unique analysis and perspective of world events. Socialistworld.net also plays a crucial role in building the struggle for socialism across all continents. Capitalism has failed! Assist us to build the fight-back and prepare for the stormy period of class struggles ahead. Please make a donation to help us reach more readers and to widen our socialist campaigning work across the world.

Donate via Paypal

CWI- Please inform us if you are reproducing any material from this site.