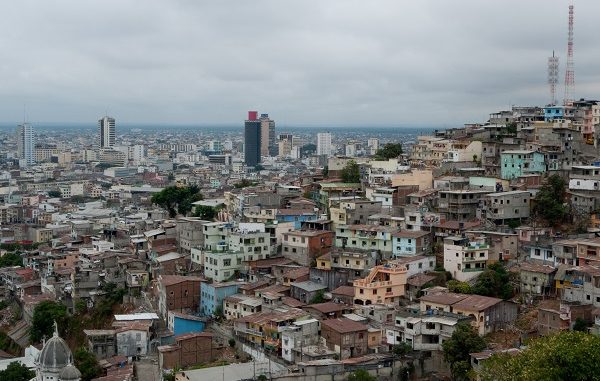 Up to now, the Ecuadorian port city of Guayaquil has been better-known to the world as a picturesque holiday destination. Its mixture of tropical vegetation, colourful colonial architecture, charming cafes and the extensive walkable waterfront has made the place a real hit with backpackers and well-off holidaymakers, alike.
Behind its glossy façade, however, lies a much darker reality. A reality most tourists and people abroad ignore; blatant socio-economic segregation. Years of neoliberal policies have made Guayaquil one of the most unequal places in Ecuador. The city has some of the wealthiest, and most corrupt, bankers of the country living in the affluent historical quarter. While, only a few miles away, almost three million people suffer the devastating consequences of living under sub-human conditions having no access to basic services and sanitation.
Guayaquil is a major political, cultural and financial centre. Its port is one of the biggest and busiest in the entire region, with 70 per cent of Ecuador's exports and over 80 per cent of imports passing through it. Yet, the majority of its residents are not benefiting from this wealth; 12% of adults are illiterate and up to 20% of children, as young as 10 years old, are forced to abandon their school education to start working in fields in order to help their parents sustain the family (Source: SOS Children's Villages International).
Hospitals overwhelmed
As the world faces the disastrous effects of coronavirus, Guayaquil is, rapidly, becoming the South American poster child of capitalism's aftermath. The city registers more than half of the 3,100 cases of coronavirus in the entire country. Due to lack of funding, the very few existing hospitals are not only overwhelmed but also unable to provide the necessary care for those in need. This precarious situation has translated into the deaths of hundreds of people and, to make matters worse, a sanitary crisis never saw before. As the country is in curfew, there has been a colossal issue with burials and funeral arrangements. Families have had no other choice than to keep the corpses of their deceased loved ones in their own homes for up to five days. Others, struggling with the issues related to putrefaction, have had to make the heartbreaking decision to abandon the cadavers to later be burnt in an effort to avoid further contagion. Video footage shows a desperate situation of bodies in the street and some being burnt.
There is mounting pressure on the government to act promptly and efficiently, yet there seems to be too little done too late. As social discontent grows, people in Guayaquil and around the world are starting to realise that the current capitalist socio-economic model is not fit for purpose and it is in desperate need of change. We are facing one of the most decisive moments in modern political history and it is crucial for the working masses to seize this opportunity to create radical and lasting change by implementing true socialist policies that benefit every single person in society.