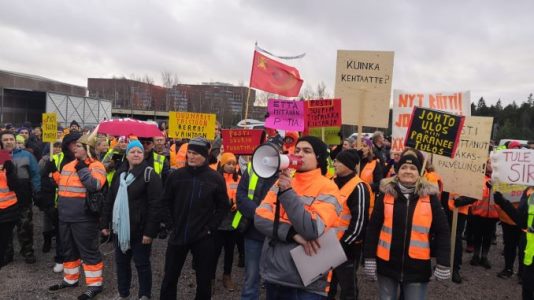 Workers at Jyväskylä-based IT infrastructure company, Suomen Kotidata, walked off the job on Wednesday 22 July, in protest over the company using the wrong collective bargaining agreement.
According to IT trade union, PRO, the company deceptively imposed a weaker, inapplicable CBA on its workers for several years in order to undercut their pay and time off. The strike is planned to run until Friday.
With Finland still operating to a work-from-home rule due to coronavirus, the strikers did not form picket lines.
Finland's highly-sectorized system of collective bargaining agreements, negotiated between management and the tops of the unions with little member input, mean workers and local union branches often do not know which agreement is the applicable one for their workplace. A strike is absolutely justified.
At the same time, it is surprising that PRO failed to recognize the problem for years. As the Finnish economy depends more and more on information technology companies, PRO must step up to the responsibility. PRO's leadership must be held to account for failing, up to this point, even to recite the most basic ABC of trade unions. A democratically accountable, grassroots union leadership would put tech bosses on the spot.
The problem of CBA "shopping," where bosses put workers on an inapplicable contract, is not unique to Suomen Kotidata. An attempt to shift postal workers onto a contract that would have cut their pay by a third was the spark for the Posti strike in late 2019.
Suomen Kotidata is not a frontline internet provider but provides data hosting to major telecommunications companies, such as DNA, Elia and Telia.
The company, originally operating only in the central Finnish university city of Jyväskylä, expanded nationwide in 2014, when the abuses started. While the Finnish state has stakes in some telecom companies, like Elisa, most information technology backbone in Finland remains fully in private hands.
We say:
Keep the pressure on – build for escalating and solidarity action! Fight for every penny of unpaid labor.
More active unions can coordinate against bosses better. For a fighting PRO leadership!
Nationalize infrastructure, including information technology, under democratic control of workers