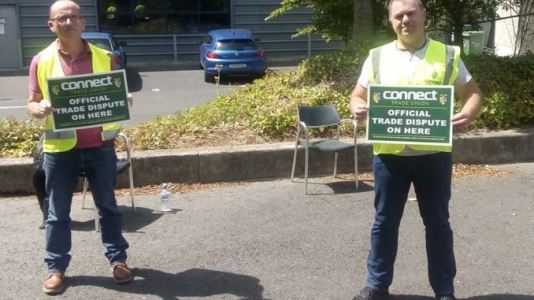 The long-predicted second wave of COVID-19 is now a fact. In the two weeks up to 18th September, 3001 cases of infections were reported in Ireland. Cases started to grow in August as restrictions eased and this trend has gathered pace in September. By comparison, 229 cases were diagnosed in the first two weeks of July.
We hear no more talk of 'flattening the curve'; instead, the government is pushing the meaningless position that we must develop "resilience" in the face of COVID. This is all part of a deeply rattled political establishment's attempt to pretend that everything is "normal". However, economic conditions have worsened dramatically since COVID struck in March. The key measure of capitalist economic growth, Gross Domestic Product (GDP), was down 6.1% between April and June. This follows a decline of just over 2% in this measure between January and March. The Southern economy is officially in recession and if economic growth continues to fall for the remainder of the year it could tip into a depression; the second in just 12 years.
Added to this, 359,000 people are still listed as unemployed. Of these, 238,000 are directly unemployed as a result of the COVID lockdown in March and April. While hundreds of thousands of workers have returned to work as the lockdown eased, these unemployment figures are the highest since the austerity years. It will take a huge amount of economic growth, which is unlikely in the present circumstances to provide jobs for all these workers. The government's insistence on winding down the Pandemic Unemployment Payment (PUP) is increasing pressure on a very substantial number of working-class people who depend on this money to live at the present time. This is the backdrop to the second wave of COVID.
The public health system, the crucial defence against COVID, typically runs close to full capacity during the winter months under the weight of seasonal flu and health problems related to winter. This year COVID-19 represents a colossal and potentially deadly challenge to the system.
At a NPHET (National Public Health Emergency Team) press conference, last week, it was stated that the 76 people then in hospital with COVID represented a big 'burden', as it is. A surge in numbers requiring hospitalisation, which is likely given the trajectory of infections, could collapse the health system over the winter months, unless massive investment is made and critical areas of private health and the care system are brought under government control. But the government's ability to find revenue to invest may be severely restricted. At the moment, government debt stands at 229 billion euro. In 2019, GDP was 345 billion euro. This put southern Ireland marginally in breach of the European Union's fiscal rules. While these rules have been temporarily suspended by the EU, as a result of COVID, this suspension may not last long.
The government deficit so far this year – 9.5 billion euro – is not yet in breach of the fiscal rules, but if it continues to grow, which it will do, it will go way beyond what the European Union will tolerate. The EU demands that any state breaching these rules must impose austerity to restore fiscal order. When the EU's fiscal rules are re-activated, possibly early next year, it will have a severe impact on public spending and public services. However, to continue to pay the PUP into 2021, and to keep the public health system from collapsing, further borrowing will be needed to cover the shortfalls COVID has imposed so far on the Exchequer.
There is some comfort for the government in that there will be some relief from an EU stimulus package. It remains to be seen, however, what that will be and what areas of the economy and society it will focus on.
Brexit
A further crisis looms, on top of all of this. Talk of a no-deal, cliff-edge, Brexit and an EU mandated hard-border has increased. If this was to happen it would further exacerbate division across the island.
In these circumstances, the government faces a 'perfect storm' of multiple simultaneous crises any one of which in normal times would cause deep political instability.
The political establishment are weak and divided; they are not in a good position to weather the storm. The multi-party government coalition of Fianna Fail, Fine Gael and the Green Party is clearly a forced arrangement that could fall apart under the impact of COVID, Brexit or an unforeseen crisis ahead.
It could take a full decade to recover from COVID and that is almost certainly going to involve 'austerity' even if it will not be called that. The coming crisis could exceed that which followed the collapse of the banks in 2008.
The workers' movement, trade unions, and the Left must prepare now for the fightback that will be needed. The announcement that there would be no tax or social insurance increases in the budget and confirmation that payment of the final instalment of the Public Sector Stability Agreement will go ahead in October indicate that influential elements in the capitalist establishment are, in the main, seeking stability, at this point in time.
However, industrial disputes at Debenhams, Instant Upright, and Premier Periclase all indicate that another section of the capitalist establishment is eager to use COVID to go on the offensive. Inevitability the capitalist class as a whole will make the working class pay for the crisis.
In summary, as in 2008 workers face a decade of struggle. Much of this will likely be defensive but offensive struggles by the working class are also on the card as the political order established in 1922 faces collapse and the possibility existing of unexpected ruptures. Millions of working-class people have already experienced a decade of austerity and economic hardship. They will not be prepared to meekly accept another decade. The trade union movement must now consciously begin to mobilise to defend workers' living standards and push for a regime to manage COVID which is not based on attacking workers.
Workers urgently need a party to defend their interests. The largest opposition party, Sinn Féin, despite their posturing, is not that party. There needs to be an initiative launched soon to further this. Militant Left calls for the trade unions to play a leading role in the building of a new party and we are ready to co-operate with trade unionists and all genuine Left and socialist organisations in the building of a mass party of the working class. It has never been a more urgent task than right now.