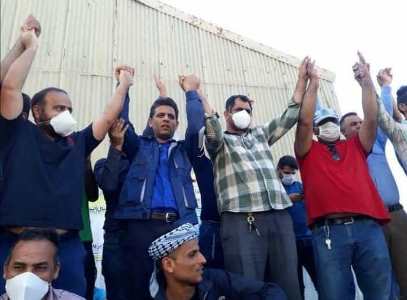 On 30 October, four representatives of the Haft Tappeh Workers' Union were arrested by the Iranian regime's security forces and imprisoned in the Shush detention centre. The arrested workers are Ebrahim Abasi Monjezi, Yousef Bahmani, Hamid Mombeini and Masoud Heyvari.
These arrests came the day after Haft Tappeh workers prevented senior management from entering the workplace.
This repression against organised workers shows again how hostile the Iranian regime is to organised workers. Another labour activist, Mehran Raouf, was arrested on 16 October.
We stand for the unconditional release of the four labour activists and all other political prisoners in Iran.
The workforce at the Haft Tappeh sugar cane refinery is one of the most militant in Iran – they have been in almost constant struggle since autumn 2018. This year, they were on strike from June to August this year. This strike encouraged other workers to struggle for their demands, resulting in a wave of strikes which culminated in involving workers from more than 50 companies. In August, over 300 strikes and demonstrations were reported to have taken place. While many of these struggles have ended, there are still some industrial actions taking place. On 18 October, workers at the Parsian gas refinery, in Lamerd, went on strike over unpaid wages.
The Haft Tappeh workers are a thorn in the side of the Iranian regime. They are seen as playing an important role, along with other workers like the Tehran bus drivers, in aiding the revival of the workers' movement in Iran; indicated by a solidarity declaration issued in mid-August by 50 trade union, student, pensioners and other organisations.
Struggle against privatisation
Significantly, the Haft Tappeh workers have developed not just a reputation for being willing to struggle, but also for their political, not just economic, demands. In particular, they have for a long time fought against the privatisation of their workplace.
In September, a court annulled Haft Tappeh's privatisation. The workers are now continuing to demand that they run the enterprise, debating whether they should own the company or, if it is nationalised, it is run under the control of the workers' council. The arrested representatives were active in this debate.
This is one of the reasons why the four workers were arrested on 30 October. Perhaps the regime thought that this was a time to act, as the wave of strikes has subsided, and the regime wants to utilise this situation to, once again, crack down hard on activists, particularly in the trade unions.
However, Haft Tappeh workers rapidly publicly demonstrated against the latest arrests, holding street protests on 31 October and 1 November.
We call on all trade unionists, left activists and socialists to stand up for the freedom of these four Haft Tappeh workers and of other arrested activists.
Please send protests to Iranian embassies, with copies and solidarity messages to:
Copies should also be sent to the Tehran bus workers' union, the Syndicate of Workers of Tehran and Suburbs Bus Company, at vsyndica@gmail.com and Telegram: @vahedsyndica.