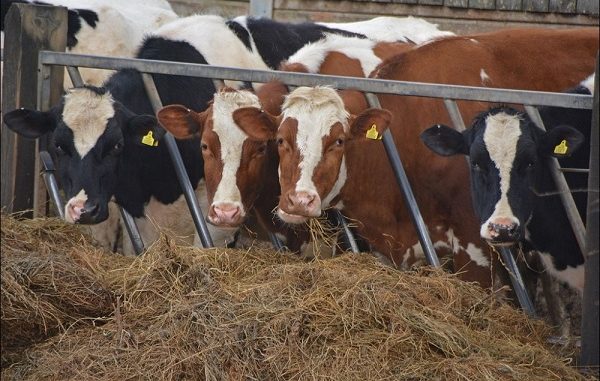 No Tory-negotiated trade deals will defend the interests of the working class. However, as Prime Minister Boris Johnson plays hardball in the eleventh-hour negotiations on what will replace Britain's current arrangements with the European Union (EU), it's possible Britain will end up trading on World Trade Organisation (WTO) terms. What will such a capitalist Brexit mean in relation to food supply, prices, quality, production and employment?
The Brexit transition period, which maintains alignment with the EU over trade and tariffs, will end on 31 December 2020. Without an agreement, and with an acrimonious breakdown of the talks, the first thing that could happen is a snarling up of the food supply chains as lorry drivers try to negotiate a passage through customs border checks. The movement of livestock would also slow to a crawl as veterinary inspections take place at border crossings.
This could rapidly lead to empty supermarket shelves since 80% of imported food sold in the UK comes from the EU. And with the short shelf life of fresh produce, panic buying could then ensue, as we saw during the first weeks of the Covid-19 lockdown.
Tesco boss John Allen said: "We can't rule out the possibility that if there is dislocation at the ports of entry to the UK there will be some shortages of some items of fresh food, at least for a time." By "a time" he means "a few months".
This border chaos and food shortages could worsen the UK economy's deepest recession in living memory. And if that causes the exchange rate of the pound against other currencies to slide, then the price of imported food will rise.
Bloomberg, a finance media company, predicts that supermarket prices will rise in the coming months "as food supplies get pummelled by a triple whammy of Brexit, Covid-19 and weather-struck harvests".
Food poverty already affects nearly eight million people in Britain, and is growing under the economic impact of the Covid-19 pandemic – as highlighted by the furore over the Tories' refusal to provide free school meals to needy families over the autumn school break. It is likely to increase still further (see front page).
A temporary schedule of tariffs (import duties) published by the government back in May, set about 85% of EU food imports subject to tariffs of more than 5%. The British Retail Consortium predicts that without a free trade deal with the EU in place by 1 January, EU food imports would face average tariffs of 20%.
The Tory government put this 'UK Global Tariff' in place to force the leaders of the 27 member states to capitulate. But what if they don't? Steep price rises and food shortages combined could lead to social unrest, including looting and rioting.
Civil unrest
Of course, such a chaotic scenario is dismissed by the government as 'irresponsible scaremongering'. But its own official Operation Yellowhammer papers from 2019 spoke of the police preparing for the possibility of civil unrest.
And in September this year, Martin Hewitt, chairman of the National Police Chiefs' Council, said: "EU exit will be happening on 31 December and planning for that is starting to ramp back up…"
Tory hardline Brexiteers counter that slashing import duties to zero will actually reduce the prices of some imports. However, even the Johnson government has baulked over this idea as it would expose UK farmers to fierce global competition, which includes food products produced much cheaper, partly due to lower animal welfare standards.
Interestingly, in the government's Agricultural Bill, that recently passed its third reading in the Commons, the government threw out a Lords amendment that would have codified in law that all foodstuffs must comply with domestic animal welfare standards.
The reason for this refusal is because Johnson is desperate to secure a trade and tariffs deal with the US. But Trump's administration has made it clear that any such deal is contingent upon allowing potentially unsafe food products – such as chlorine-washed chicken carcasses and growth hormone-injected beef – into the UK market.
Johnson is engaged with a game of brinkmanship with his EU counterparts. He is hoping that the EU leaders will blink first and accept a favourable free trade deal with the UK.
However, if this fails, the EU could impose high 'third country' tariffs on UK agriculture exports, currently worth £13 billion a year. This would cripple UK sheep farmers, for example.
And without an EU-UK trade deal, imports into the UK economy will revert to World Trade Organisation 'non-discriminatory' rules. So if the UK government continues to allow EU imports at zero-tariffs, it will be obliged to allow these rules to apply to other non-EU countries. And while this will keep consumer prices low, UK agribusiness will be adversely affected.
Anticipating this disastrous consequence of an exit on WTO terms from the EU, the UK government, as previously mentioned, has made arrangements for a 'temporary tariffs schedule', lasting one year. This would allow the majority of imports to be tariff-free but with higher tariffs applied to beef and lamb imports.
On top of all this mess is the government's Fisheries Bill, which passed through the Commons in October. Its main provision will be to end access of EU fishing fleets to British waters. Currently, EU fleets have access to 60%. This was a concession made decades ago by the Tories to gain British entry into the EEC (as the EU was then known).
Apart from a possible confrontation between British and French fishing crews post-Brexit, the government defeated an amendment to the Bill to protect these waters from overfishing by super-trawlers.
Already, 97% of Britain's supposedly protected coastal marine parks have been wrecked by dredgers and sea-bottom trawlers. Super-trawlers will still be allowed access to the marine parks as long as they don't bottom trawl!
Health, workers and environment
Tory Brexiteers often cite Canada's free trade deals as a template for a US-UK deal. However, such a deal could have serious negative implications for public health.
In 1989, Canada struck a free trade deal with the US. Five years later, Canada removed its 5% import tariff on high-fructose corn syrup products, which are typically found in breakfast cereals, icecream, soft drinks, etc.
According to the American Journal of Preventative Medicine, a rise in obesity levels, and associated illnesses such as diabetes since the 1990s, can be partly attributed to this deal.
Consumer, medical, and environmental organisations, the National Farmers Union, and even celebrity chef Jamie Oliver, pointed out the dangerous health implications ahead of the government's Agricultural Bill – but to no avail.
However, it's not only imports of cheaper high sugar, fat and salt foods that would fill our supermarket shelves under a free-trade deal with the US (not that the British retail industry has done very much to source healthy foods). Many food products from the US, and elsewhere, contain traces of pesticides currently banned in the UK.
Donald Trump's chief trade negotiator made it clear that any deal with the UK must allow in American food products containing trace residues of pesticides and other agricultural chemicals.
Even the right-wing Mail on Sunday pointed out that 70 pesticides currently banned in the UK are used on US farms. Such pesticides are widely used in neocolonial countries and, according to Greenpeace, are responsible for a staggering 200,000 deaths a year.
And even if Democratic Party candidate Joe Biden wins the race to the White House, it's clear that this capitalist establishment figure would push US agribusiness interests in any future US/UK trade deal.
Another issue is the abuse of antibiotics in US pig farms. There, the antibiotic Carbadox – banned in the EU since 1998 – is commonly used to increase the weight of pigs. Such antibiotic overuse in agriculture is resulting in these medicines becoming less effective in treating infections in humans.
Of course, no one should be under any illusions that pesticide use, along with other adverse practices, on Britain's mega-farms – operating under EU rules – are environmentally better. A recent DEFRA report showed that water quality of Britain's lakes and rivers has collapsed in the last five years due to agricultural run-offs of pesticides and animal slurry.
Migrant workers
But wouldn't breaking with the current trade arrangements with the EU provide an opportunity for British agriculture becoming more self-sufficient?
At present, 61% of all the food eaten is produced in the country. Apart from the time lag in bringing more land into use – assuming farmers are willing or able to invest – there remains the problem of labour supply. The Covid-19 pandemic restrictions on the movement of labour within Europe has already highlighted the dependency of migrant workers on UK farms.
The Tories obliged agribusiness by abolishing the Agricultural Wages Board in 2013, which set minimum wage rates. The effect has been to make UK farms almost wholly reliant on migrant workers. As the recent failure to create a British 'land army' during the Covid-19 pandemic shows, UK farms would have to significantly increase wages to attract a new domestic workforce. But that would shrink the industry's profit margins making UK farms uncompetitive in world markets.
However, there shouldn't be any illusions in the EU's Common Agricultural Policy (CAP). CAP, in short, means handing over large sums of public money to farmers, often to overproduce. It results in an average family of four having to pay over £15 a week extra in food bills. The annual income of an EU dairy cow exceeds that of half the world's human population!
Of course, the bulk of these subsidies goes to mega-farms and not marginal farmers. It also means dumping the surplus products on neocolonial countries, thereby undermining domestic farming which can't compete.
The CAP has also been blamed for encouraging environmentally damaging intensive farming. Its commitment to guarantee prices makes it economically worthwhile to use all available land, with the aid of chemicals, to grow more crops.
The current EU proposals to reform the CAP have been derided as 'greenwash' by many environmental groups, who point to the policy amendments maintaining direct farming subsidies, along with deregulation and dismantling environmental checks.
Free trade v protectionism
The 'food question' under Brexit has brought into sharp relief the historic struggle within capitalism between advocates of protectionism and free trade.
For socialists, however, they are two sides of the same system of capitalist exploitation.
Neither protectionism nor free trade under capitalism can guarantee sustainable agriculture, with plentiful wholesome food, produced by non-exploited labour. That would require the coming to power of a workers' government.
The Socialist Party supported a vote to leave the EU in the 2016 referendum. We called for a socialist Brexit which would mean ripping up the EU bosses' club neoliberal rules, not in order to create the more isolated and even more exploitative neoliberal vision of the Tory right but to begin to fight for a socialist society.
As the Socialist has previously explained: "For socialists, it does not matter so much where production is situated in a global economy but it is a question of which class in society controls production.
The only way workers can properly protect themselves against the volatility and instability of the capitalist economy is ultimately through taking over the means of production, distribution and exchange and for the economy to be democratically owned and controlled by the working class in a socialist plan of production."