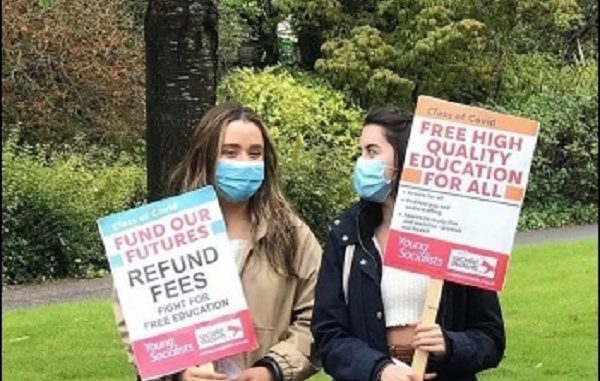 The British Tory government's announcement of a new national lockdown in England has left a huge question mark over what university students can expect for the rest of the academic year. At the time of writing, it is totally unclear to millions of students, many of whom have already paid their rent for the term, whether or not they will be allowed to return to campus.
This episode has yet again underscored not only the complete incompetence of the Tory government, which has sought at every stage of this pandemic to put the profits of big business ahead of our health and education but also the broken funding model on which universities are run.
With the new lockdown, students across the country face the possibility of being made to pay both full rent and tuition fees for stay-at-home, online-only university courses.
Rent Refund
In particular, the prospect of paying thousands of pounds of rent for rooms which they won't even be able to live in will be outrageous to thousands of students. Students who for any reason are unable to move into their halls of residence and have already paid this term's rent should be given 100% rent refunds by their universities, and any lost university revenue made up by the government.
Students who are yet to pay their rent, or no longer require the use of accommodation, should be released immediately from their contracts should they wish, including those living in either third-party accommodation or in the private rented sector, with landlords given compensation only on the basis of proven need.  
Universities were already in the midst of a huge funding crisis prior to the arrival of Covid. Students last term were lied to by university management so that universities could get access to rent payments and tuition fees. 
That's why Socialist Students and the Socialist Party is fighting not only for rent refunds for the year but for free education. This means tuition fee refunds through cancellation of all student debt and the scrapping of tuition fees and replacing the broken market model with a fully funded and publicly owned education system. 
Part of fighting for free education is fighting to kick profit out of higher education. This would involve placing all halls of residence currently owned by private companies under the ownership and control of the universities themselves. This would lay the basis for democratically set rents in student halls, decided on by democratically elected committees with the involvement of students themselves. 
To win all of this will take the building a mass student movement, uniting rent strikers, students struggling for free education, and university staff opposing cuts, to fight the Tories for the funding and resources our universities need. Come to Socialist Students online national conference on Sunday 28 February to discuss how we can build such a movement.
University teaching moves online in England – Workers to fight redundancies and pay freeze
Bea Gardner, Southampton UCU (personal capacity)
Like in the rest of education, university staff and students are left in disarray by this consistently inconsistent and incompetent Tory government. 
Under mounting pressure even before the lockdown announcement, the universities minister, Michelle Donelan, sent a last-minute letter to universities on 30 December (one working day before students were due back) to announce a staggered return from 25 January for students. Then, just days later, unmentioned in Boris Johnson's speech, the government gave instructions to keep learning online. Meanwhile, as it stands, the Welsh government is set to continue with a staggered return. 
In England, where the announced lockdown does mitigate some of the worst of workers immediate safety fears, it still poses challenges. Those now attempting to manage home working with home schooling need appropriate flexible working arrangements, including paid time off if needed. 
Workers asked to attend the workplace still need safety provision and new risk assessments which take into account the higher infectivity rates of the new Covid strain. Postgraduate students continue to resist government's decision that they should "adapt" their projects without funding extensions. And of course, we still face the onslaught of cuts and voluntary and compulsory redundancies, alongside the announced pay freeze for this year.
But branches of the University and Colleges Union (UCU) are fighting back. Members at Brighton, East London and Goldsmiths universities have successfully won ballots for industrial action against redundancies. They could soon be joined by many other UCU branches including Solent, Manchester Met, Roehampaton and Birmingham, all having delivered impressive consultative ballot results in the autumn term. 
The National Education Union has shown that unions have power collective organising can win massive concessions for workers. Such action is a start towards building a movement capable of winning more than concessions but transforming our workplaces in our interests.