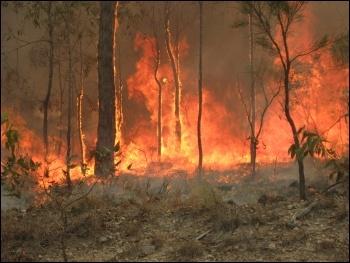 An unprecedented heatwave in Canada and the US Pacific north west has left hundreds dead and caused destructive wildfires.
Extreme weather events like this are consistent with global heating producing climate change. However, 'big energy', along with many large transport, manufacturing and agri-businesses, continue to deny a causal link between rising greenhouse gas emissions from these profit-driven capitalist industries and destructive climate change.
Authoritarian rulers like Brazil's Jair Bolsanaro and Russia's Vladimir Putin deny or even welcome climate change. Other capitalist politicians like Joe Biden or Boris Johnson talk loudly about instigating action on climate change but continue to defend the profit system that is destroying the global environment.
In anticipation of the United Nations COP26 climate change summit meeting in Glasgow this November, Oisin Duncan, Glasgow Young Socialists, exposes the rotten role of capitalism, and instead calls for a socialist plan of action.
socialistworld.net
At the last COP conference in Madrid in 2019, speeches from OPEC (Organisation of Petroleum Exporting Countries) and GECF (Gas Exporting Countries' Forum) demanded their own stake in climate solutions, without reducing their share of profits.
The current United Nations Framework Convention on Climate Change proposals, in particular carbon capture, are largely untested and thus the effectiveness is unknown. Previous UN 'solutions', such as the carbon trading market, have failed, as emissions increased by 13,000 kilotons between 1996 and 2016.
The failure of capitalist solutions to the climate crisis has become clear; just 100 companies are responsible for 71% of carbon emissions since 1970, and just 20 firms produce 55% of the world's plastic pollution. We therefore need a socialist response.
Socialists cannot promote 'green' capitalism as part of any solution to the impending many-faced environmental disaster.
Amazon boss Jeff Bezos' Green Investment Fund is a cynical attempt to control the development of renewable energy; it is also a hedged bet for his company, which supplies statistical analysis vital to the development of fracking and exploiting new oil and gas deposits.
Devolved governments
While we cannot ignore the role of the Tory government in supporting pollution-driven profiteering, (as it is currently discussing construction of a privately-owned nuclear power station in England), devolved governments also play a role.
To improve their image ahead of the next COP summit, the SNP-led Scottish government is entering official negotiations with the Greens to support them in Holyrood, in a de-facto coalition.
Despite declaring a 'climate emergency' in 2018 under pressure from the climate movement, the SNP remains cosy with North Sea fossil fuel companies, even setting up a £62 million fund of taxpayers' money to pay for private corporations to reduce emissions.
The Scottish Greens are turning their backs on the young people who voted them in. Young people understandably see green parties as the most environmentally friendly option. Yet they still uphold capitalism, and therefore defend the very system against which many youth have rebelled.
Building a movement
Socialist Party Scotland participated in the 2019 climate strikes of mainly young people, but the Covid pandemic has caused the movement to retreat, with leading figure Greta Thunberg stating she will not attend COP26 because it is unsafe.
Other social movements, like Black Lives Matter, while encouraging wearing face masks and observing social distancing, have correctly defied anti-democratic Covid legislation to protest the oppression suffered by millions under capitalism.
COP26 is a huge opportunity to rally the working class and young people bearing the brunt of climate change, and hold a discussion on the way forward.
Mass walkouts from schools and colleges should be organised to coincide with the Glasgow COP summit to demand real action to tackle the  climate crisis.
We also campaign for a mass workers' party to be built, which can organise a movement to resist the attempts of the state and private capital to make us pay for their system failures.
In private hands, any transition to a 'green' future will put wages, jobs and living conditions at risk. Only a democratically agreed plan of production based on public ownership and socialist planning can prevent environmental collapse without impoverishing the world working class.
We call for the retraining of oil, gas and coal workers and their redeployment in renewable energy sectors with a guarantee of no job losses.
We demand a publicly owned, democratically controlled public transport system; and we call for the nationalisation of the big polluting companies and of the land in Scotland, to construct renewable energy infrastructure and create new carbon sinks under democratic control.
Capitalism is destroying the planet. We need to fight for socialist change to end climate change.