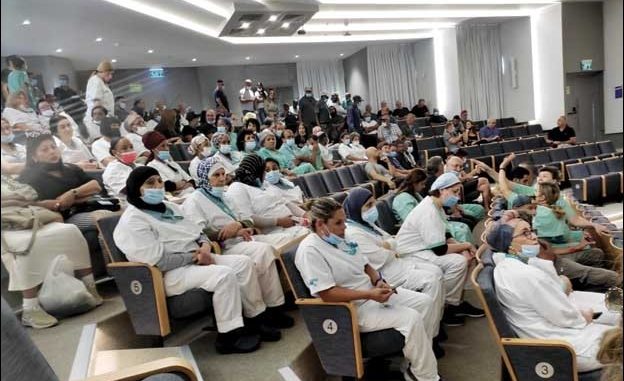 Following three days of strike action by government hospital ancillary workers, the employers have agreed to cancel the elimination of 200 posts created to handle the Covid pandemic. But there is no concrete agreement on the main issues of the strike – pay parity with workers employed by the health funds, and excessive workloads (see 'Israel: Hospital ancillary workers strike over pay parity and workload').
The health minister has promised the strikers that he will do his best to sort out the problem of pay parity within 45 days. But the funds required to solve the dispute are controlled by the minister of finance.
The strike action was solid and showed the strength of the ancillary workers. If there is no progress in dealing with their demands, workers are prepared to resume the strike action.
But the expiry of the 45-day suspension will fall within the Jewish holiday period and is likely to coincide with a new Covid wave, both factors which will make a resumption of the strike harder.
The strikers thank the Socialist Party for the many messages of support they have received. But they are disappointed that the strike was not continued until their demands were met. It's believed that the strike was suspended due to pressure from the right-wing Histadruth (trade union organisation) bureaucracy that is negotiating a national deal with the government, which will freeze wages in return for a moratorium on redundancies.
The strike has shown the combativity of the hospital ancillary workers. But they need to assert democratic control of their own struggle to ensure its success.
For immediate pay parity with health fund workers
No to deals by bureaucrats behind the backs of the workers.
For democratic control by the strikers of their own struggle.
No end of suspension of a strike without a ballot of the strikers
Special financial appeal to all readers of socialistworld.net

Support building alternative socialist media

---

Socialistworld.net provides a unique analysis and perspective of world events. Socialistworld.net also plays a crucial role in building the struggle for socialism across all continents. Capitalism has failed! Assist us to build the fight-back and prepare for the stormy period of class struggles ahead. Please make a donation to help us reach more readers and to widen our socialist campaigning work across the world.

Donate via Paypal

CWI- Please inform us if you are reproducing any material from this site.