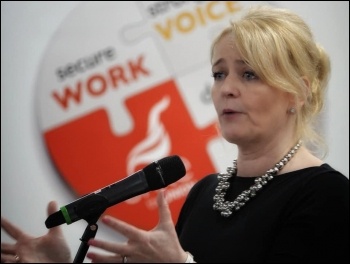 Sharon Graham has won the Unite general secretary election. Her success is being celebrated by many members who saw her left candidature as the most likely to build and organise the union industrially as workers face a brutal offensive from the bosses and their Tory government. The Socialist Party campaigned strongly for Sharon's victory. Our hundreds of Unite members gave out our leaflets alongside her campaign material, outlining our industrial and political programme for Unite, and the need for a new organised left in the union.
Particularly because of her fighting industrial strategy, Sharon has been able to attract towards her many of the most militant reps and members, including the rank and file electricians, Manchester bus workers and Thurrock binworkers from Essex, who have all won significant victories this year. Despite the restrictions of Covid, her campaign has been able to mobilise a big layer of activists, to get to the workplaces and reach a broader section of members.
This doesn't appear to be the case with the other two candidates – assistant general secretary (AGS) Steve Turner and right-winger Gerard Coyne. This is because of their respective approaches. Coyne was an outright representative of the employers and the Blairites. His crushing defeat, almost 20,000 less votes than he polled in the previous GS election in 2017, is a total refutation of his position of partnership with the employers.
United Left
Steve Turner's supporters argued that he was the 'official' left candidate because he had secured the nomination of the United Left (UL) group within the union in a controversial selection meeting last year. But it was clear in that hustings – against fellow AGS Howard Beckett – that Turner would not challenge the Labour leadership of Sir Keir Starmer, and his idea of a general secretary that isn't an 'attack dog' but someone who does deals in the background gave no confidence that he would stand up to the bosses.
This was emphasised during the campaign, when he criticised Sharon's Organising Department for demanding that Labour mayors Andy Burnham and Sadiq Khan intervene in bus disputes in Manchester and London respectively to support Unite members. Turner didn't even publicly demand for Howard Beckett to be reinstated to the Labour Party after Starmer suspended him in May, despite Howard eventually withdrawing from the general secretary contest in favour of Turner.
The Socialist Party called on Sharon and Howard to run a joint campaign, and Howard had indicated in some branch hustings during the nomination process that he would support her if he wasn't standing. We invited both Sharon and Howard to write articles for our paper and address our members, which they both did. After a thorough-going discussion in our ranks, we agreed to support Sharon. To step down from the election and join Turner's campaign was a serious mistake by Howard. If he had backed Sharon it could have given a real impulse to the election, given Howard's leading role in challenging Starmer on the Labour national executive committee (NEC).
Political programme
While supporting Sharon, we have raised the need for her to put forward a political programme that can complement and strengthen the fight on the industrial front. Her election will immediately pose the need for the union to lead the discussion for a political alternative to Starmer's Labour Party.
On the very day that word seeped out about Sharon's election victory, the Bakers union (BFAWU) issued a statement in support of their National President Ian Hodson. The union committed itself to organise a recall conference to "to debate the disaffiliation from the Labour Party" if, as they expect, Ian joins the growing list of expelled and suspended left Labour members. This is yet another reason why Unite should convene a conference of affiliated and non-affiliated unions, trade unionists, socialist organisations and individuals to prepare the ground for a political vehicle that fights the Tories on socialist anti-austerity policies and can provide a future to workers, rather than the pro-business agenda of Starmer and his cutting Labour councils.
The election of Sharon Graham opens up the opportunity to build on what has been achieved after a decade of the leadership of Len McCluskey, both industrially and politically. It was significant that her campaign was able to win the support of key figures on the Unite executive, such as the union's lay president, Tony Woodhouse. We support moves to further democratise the union, including more frequent elections, annual conferences and extending the election of union officers.
Building a new left
But a vital necessity in this is the building of a new open and democratic left in Unite, that can stand up to any resistance against the implementation of Sharon's programme and, in her own words, that can "hold her feet to the fire". This needs to draw in all those who have been involved in supporting Sharon and, with a fighting programme, can attract the best activists around Howard's campaign and even that of Turner's. This should be launched at a public meeting of members at the upcoming Unite Policy Conference in Liverpool in October.
Sharon has the opportunity to use the platform of the Unite Policy Conference to send out the message to members that the union will fight the attacks from the bosses and the Tories, as they look to make workers pay for the Covid crisis. Such a stance, with Unite taking an industrial and political lead, would have the potential to revitalise the union and see Unite act as a pole of attraction to the whole labour and trade union movement and millions of workers facing pay cuts, job losses and attacks such as fire and rehire. That fighting programme is the one that Unite members have voted for in this election. Socialist Party members will fight for it to be carried out.
A socialist programme for Unite
No return to partnership with the bosses – maintain the position of not repudiating unofficial action
Workers must not pay the price for Covid. Fight for our lives and livelihoods – for workers' control over workplace safety
Fight to prevent workplace closures and redundancies, including through union inspection of company accounts. Let's see where the profits have gone
Nationalise, under democratic workers' control and management, company plants threatened with closures and widespread redundancies. Integrate these into a socialist plan of production
Unite must take the lead in fighting for coordinated action against the Tories, their cuts and anti-union laws
Use the union's industrial strength to build links and solidarity between its different industrial sectors
Democratise the union – extend the election of officers from just the general secretary, beginning with assistant general secretaries, national industrial sector and equality officers and regional secretaries
For an annual policy conference on a branch delegation basis; biennial elections throughout the union from shop stewards to the executive council
The election of full-time union officials. Union officials to receive a wage no higher than the average workers' wage
Unite should support council candidates inside or outside Labour who commit to refuse to pass on Tory cuts, and urge Unite members in councils to move no-cuts budgets in Labour-run authorities
No to Starmer's revival of New Labour – fight for a mass political vehicle for workers with a socialist programme